Your Career at Xometry
Join the Xometry Europe team and help us build the future of manufacturing!
A dynamic team distributed throughout Europe
Diverse employee benefits and perks
Headquarters in Munich area, Germany
We Hire Talents Across a Wide Range of Disciplines
Xometry is a leading digital marketplace for on-demand manufacturing, transforming one of the largest industries in the world. Xometry uses its proprietary technology to create a marketplace that enables buyers to efficiently source on-demand manufactured parts and empowers sellers of manufacturing services to grow their businesses. Xometry's buyers range from self-funded startups to Fortune 100 companies.
Xometry is a fast-growing, global company with around 900 employees in the USA, Europe, and Asia. In 2021 Xometry became a publicly-traded company (Nasdaq: XMTR).
Join our European team to help us build the future of manufacturing!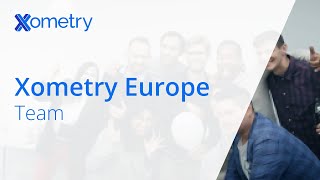 Advantages of Working at Xometry
Dynamic environment
Xometry is a young company that has grown from a small startup founded in 2013 into an industry-leading, publicly-traded company with over 500 employees.
International team
We have a friendly international team from over 20 countries in Europe and overseas. Our corporate language is English, but our employees also speak many other languages such as German, French, Italian, Polish, and Russian
Remote working & global mobility
You can work up to 100% remotely from your home office or be based at our headquarters in Munich. We also support relocation and global mobility initiatives for our employees.
Career development
As a fast-growing company, we are pleased to be able to offer our employees career growth and zig-zag development opportunities. In addition, we support personal growth at multiple levels by organising experience-exchange meetings with teams across the globe, offering language and professional online courses, and much more.
Agile and open
We are proud to have a great work culture at Xometry. We use agile methodology, avoid corporate bureaucracy, and welcome and support new ideas from employees at any level and help implement them.
Equity incentive & bonus schemes
In addition to their salary, our employees get stock options and benefit from corporate bonus schemes.
Meet the Xometry Team

Vesna Strumberger
Head of Sales (Nordics & Benelux)
Paul de Scorraille

Nikolaus Mroncz
Hiring process at Xometry
Review of applications
1
Review of applications
We carefully review all the applications we receive and then shortlist candidates for the next stage.
Interview with HR
2
Interview with HR
Our HR team then conducts interviews over the phone to evaluate whether the candidates could be a good fit.
Test assignments
3
Test assignments
For most roles, the shortlisted candidates receive test assignments and have a few days to complete them.
Final interview
4
Final interview
During the final interview with a hiring manager, we assess professional skills and discuss the test assignment.
Offer
5
Offer
At this step, the hiring manager decides which candidate they would like to make an offer to and HR sends the formal offer.
Join the Xometry Europe Team!