It all started two years ago during a speed reading course Nienkämper was attending. Participants were told that a key way to improve reading speed is to control your eyes using a visual guide, such as your finger or a pencil, and then gradually increase the speed. But when he eventually tried to put it into practice, Nienkämper quickly realised his finger was too big and the pen too heavy and unwieldy to actively hold in the long run.
This is why the engineer decided to build his own tool for supporting eye guidance while reading and promoting efficient learning with targeted note-taking. His first prototype eventually convinced him that this type of device could be successful. "I no longer had to actively hold something and could easily guide my eyes through the lines of the text without covering too much like a finger does," he explains. "That's why ergonomics are a key consideration for reading or speed reading".
Equipped with this purpose-built aid, Nienkämper's motivation to read more regularly increased and his technique improved rapidly.
Creating the right device to facilitate focused reading
To make his first prototype and all the ones that followed, Nienkämper teamed up with Mana Kakuan, a creative designer, who helped him draw up the initial sketches as well as the CAD designs. But coming up with the right design was no easy task.
The wide variety of finger shapes and sizes meant that the design of the finger holder was a major challenge from the outset. The design needed to avoid using additional mechanisms such as Velcro, magnetic holders or clamps so it did not have too many joints and different elements. Plus, this project required a consistent design, but the different pen inserts couldn't fit in the main body structure in the same way.
In the end, Nienkämper and Kakuan used additive manufacturing, working on at least 20 basic models and printing hundreds of variants before creating the final design and 3D model.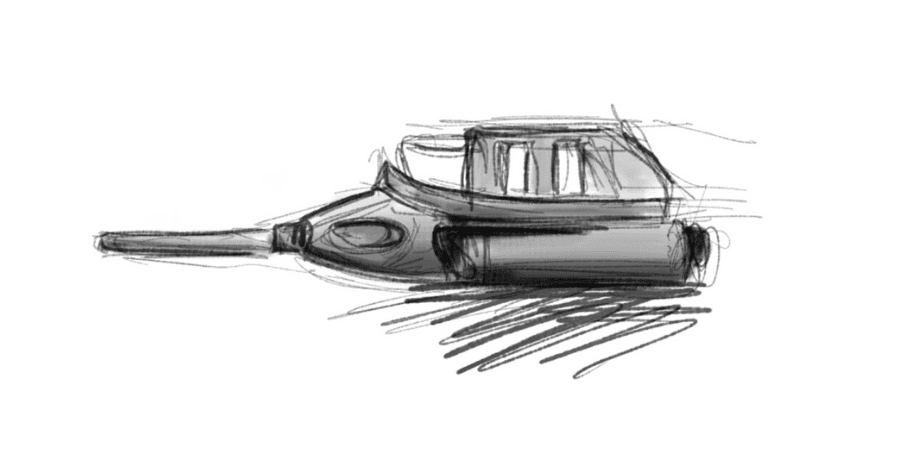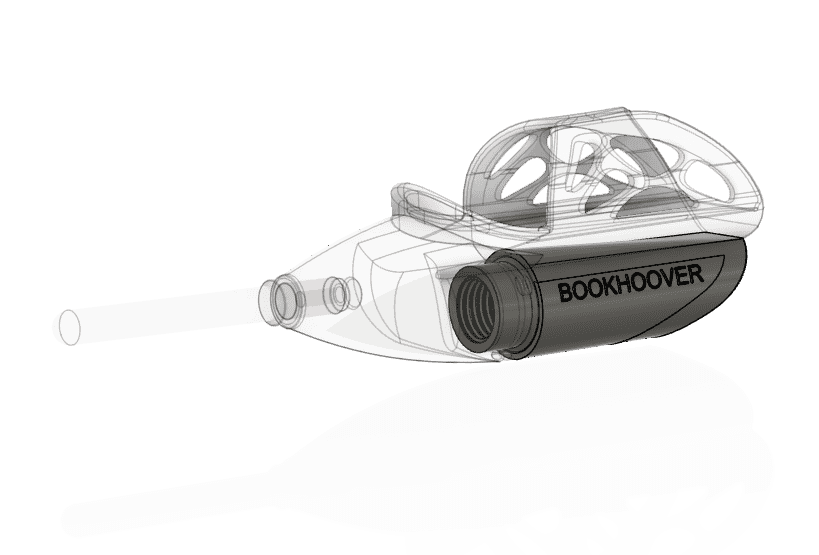 One versatile device, multiple uses
There are three different Bookhoover models available:
Ink, with an integrated compact ballpoint pen.
Graphite, with an integrated permanent pencil—a particularly robust and long-lasting graphite lead, which is comparable to the duration of around a hundred normal pencils.
Stylus, with an integrated digital EMR input pen. The patented EMR technology (electronic magnetic resonance) lets you handwrite on compatible digital devices and does not need to be charged because it interacts directly with the compatible device.
Bookhoover currently offers two sizes (big for fingers >5.5 cm or small for fingers <5.5 cm), as human fingers are simply too different to cover all possible options in a single variant.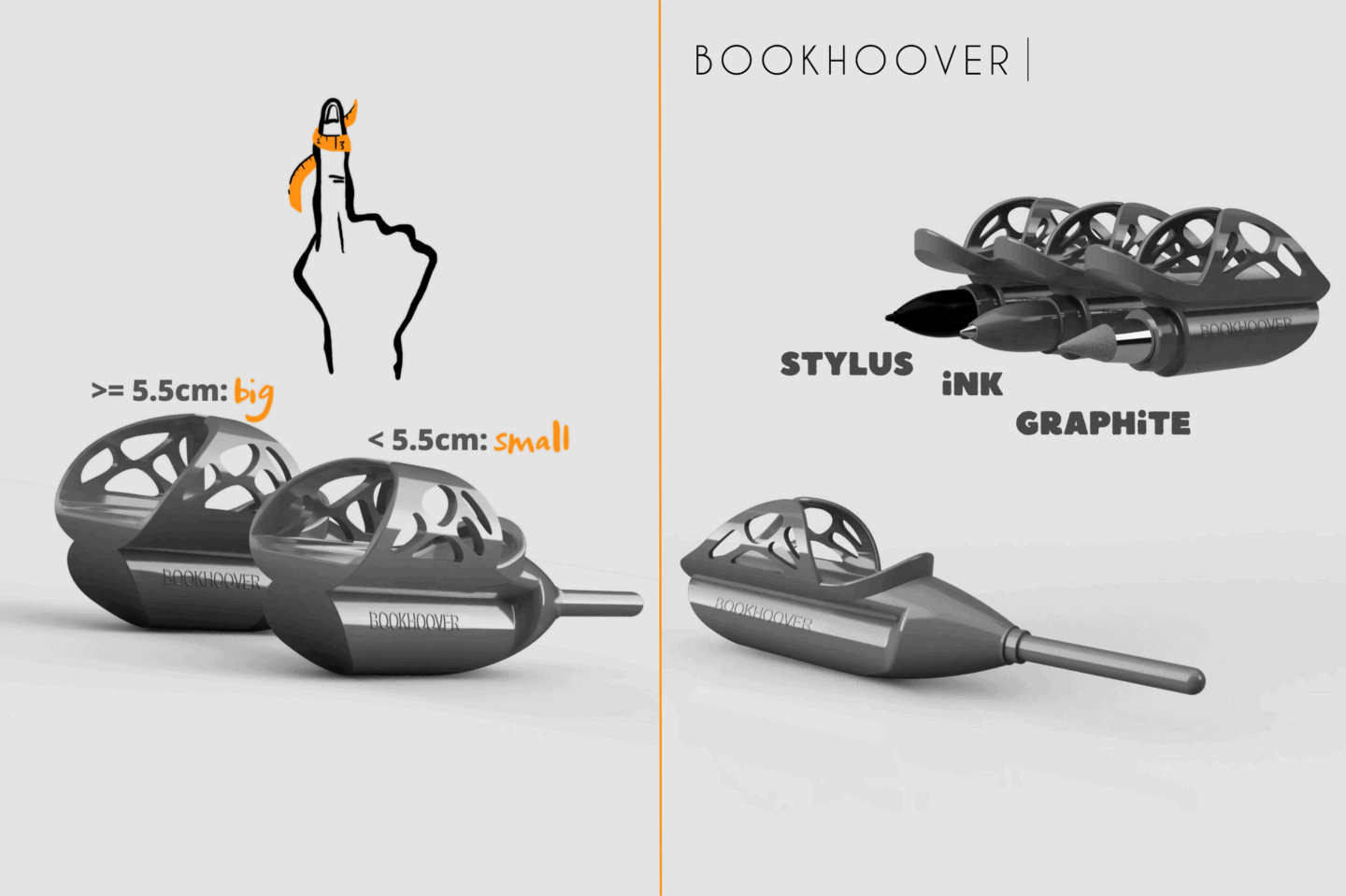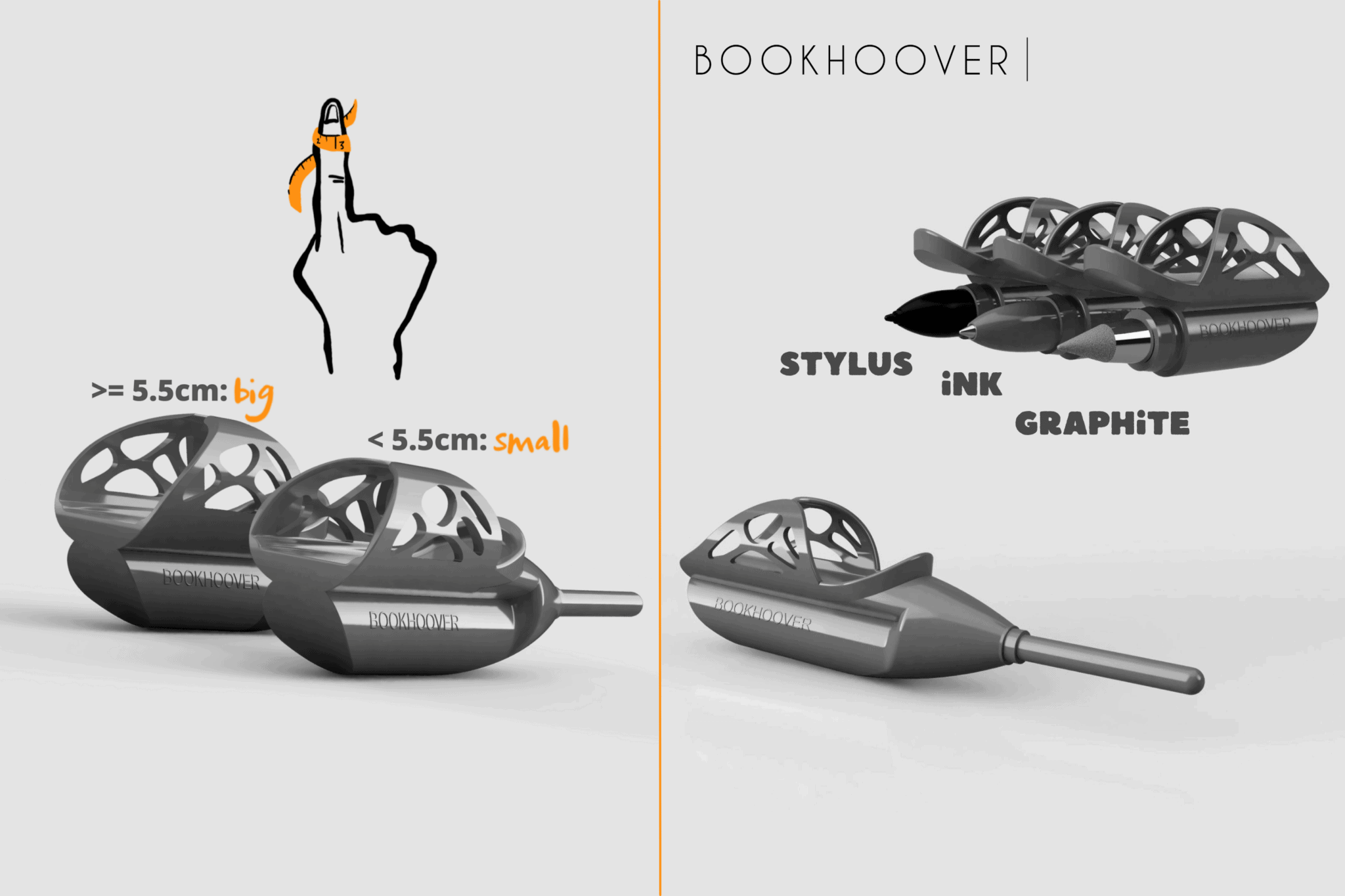 You simply place the Bookhoover on the index finger and it serves as a visual guide through the text thanks to its extended cap. Its ease of use and its lightweight help the reader make fewer jumps with their eyes and avoid eye strain. When the reader wants to take notes during the reading session, they simply take off the pen cap and write with the built-in pen. You can grip the device with your thumb just like a regular pen.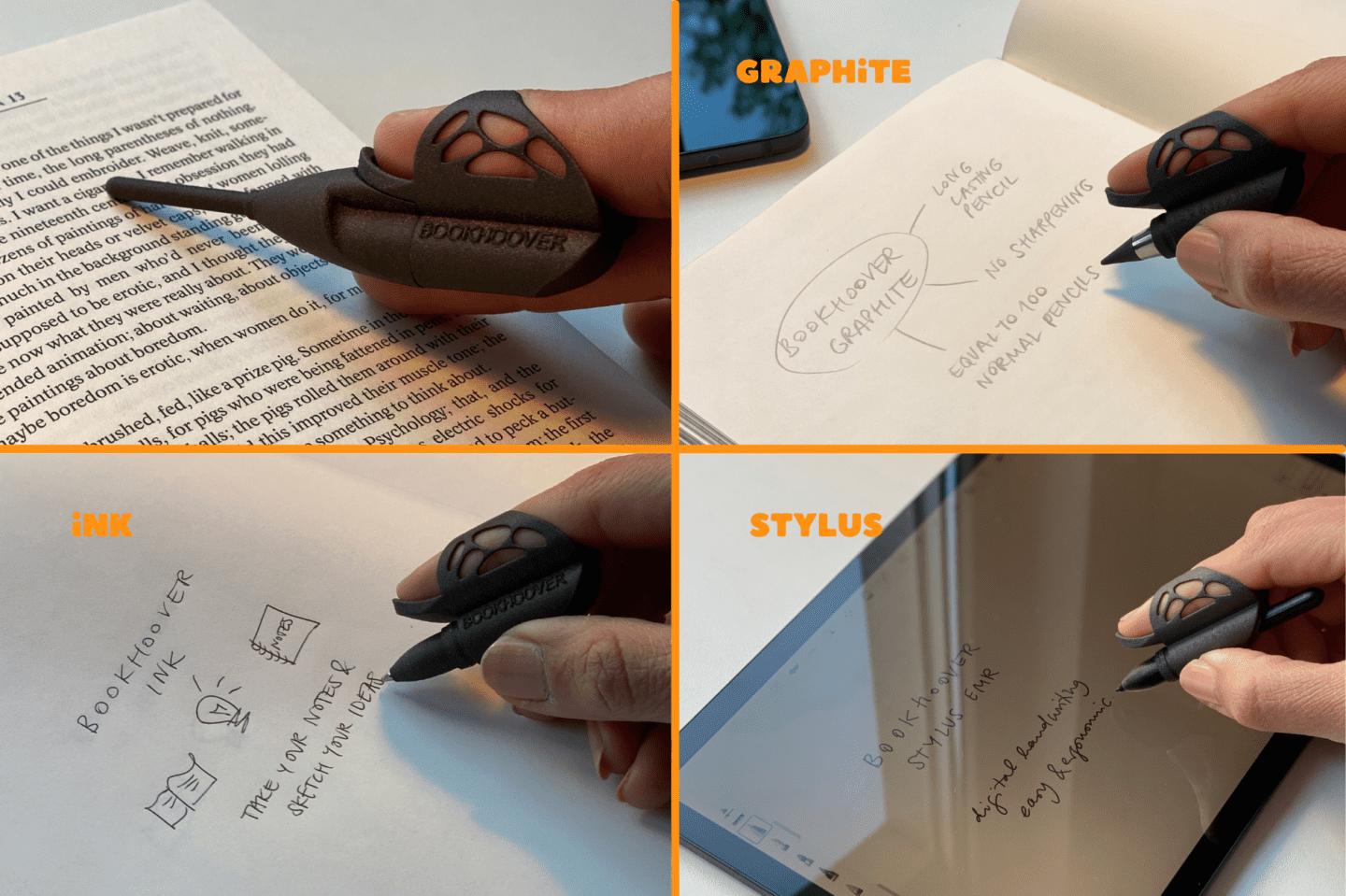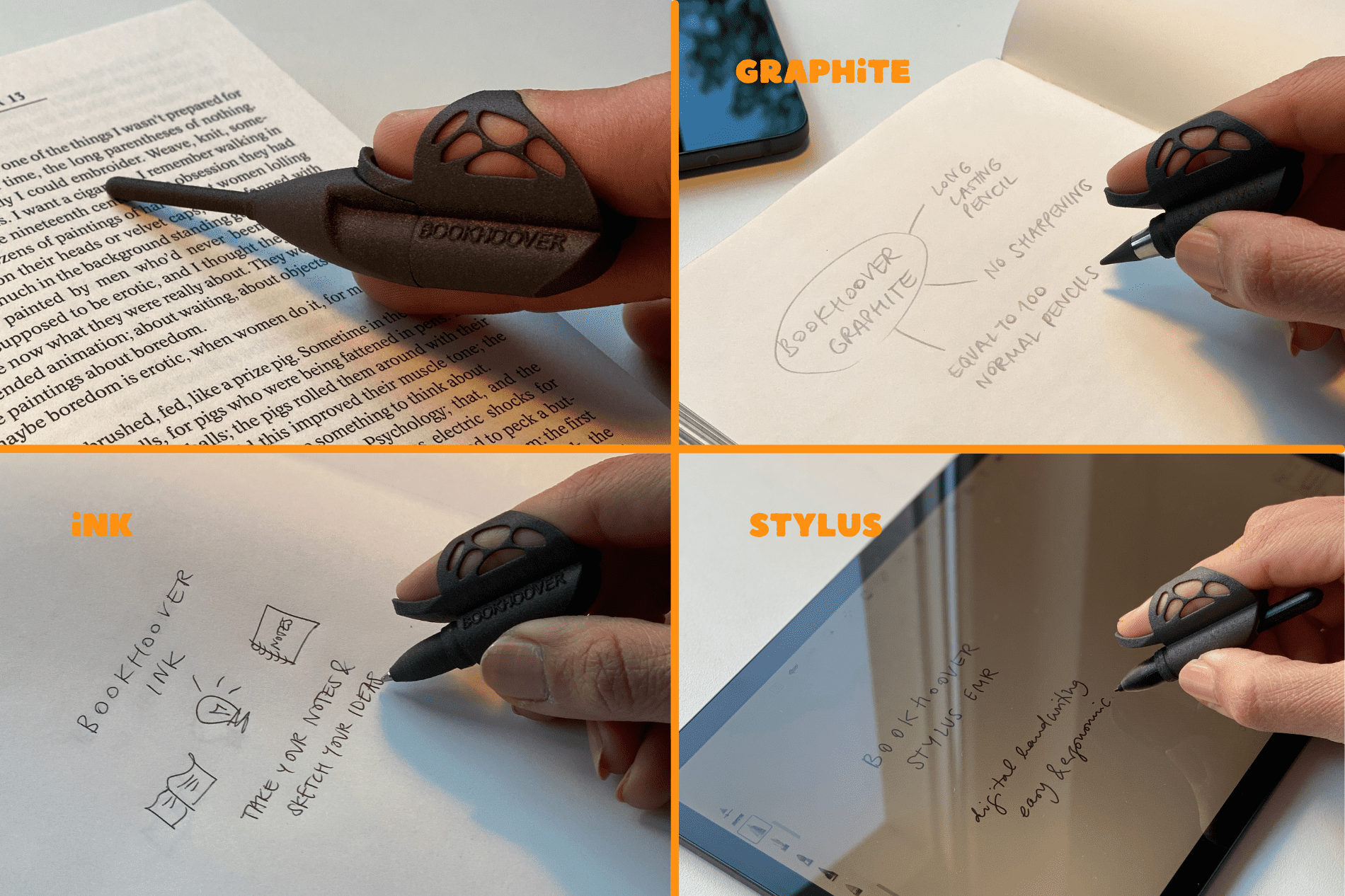 A 3D printed device for more flexibility
When choosing the manufacturing process, they quickly opted for 3D printing because of the flexibility of the process. The design was not well-suited to injection moulding and would have required too many different models and versions, which did not meet the economic constraints of the startup.
At first, Nienkämper printed the prototypes with his own SLA printer and managed to achieve a good surface finish and appearance. But he soon realised other materials and 3D printing technologies were needed to meet the requirements in terms of reproducibility, mechanical stress, colour, feel, and durability.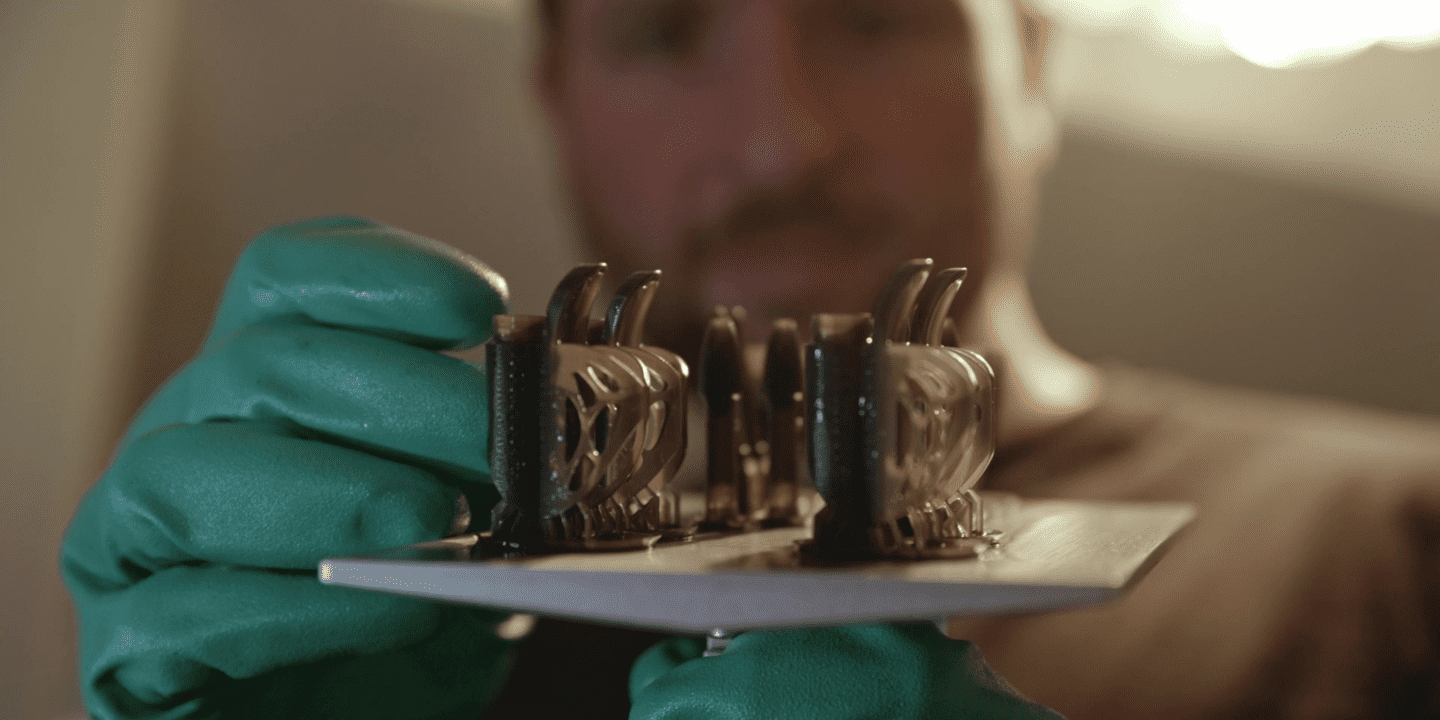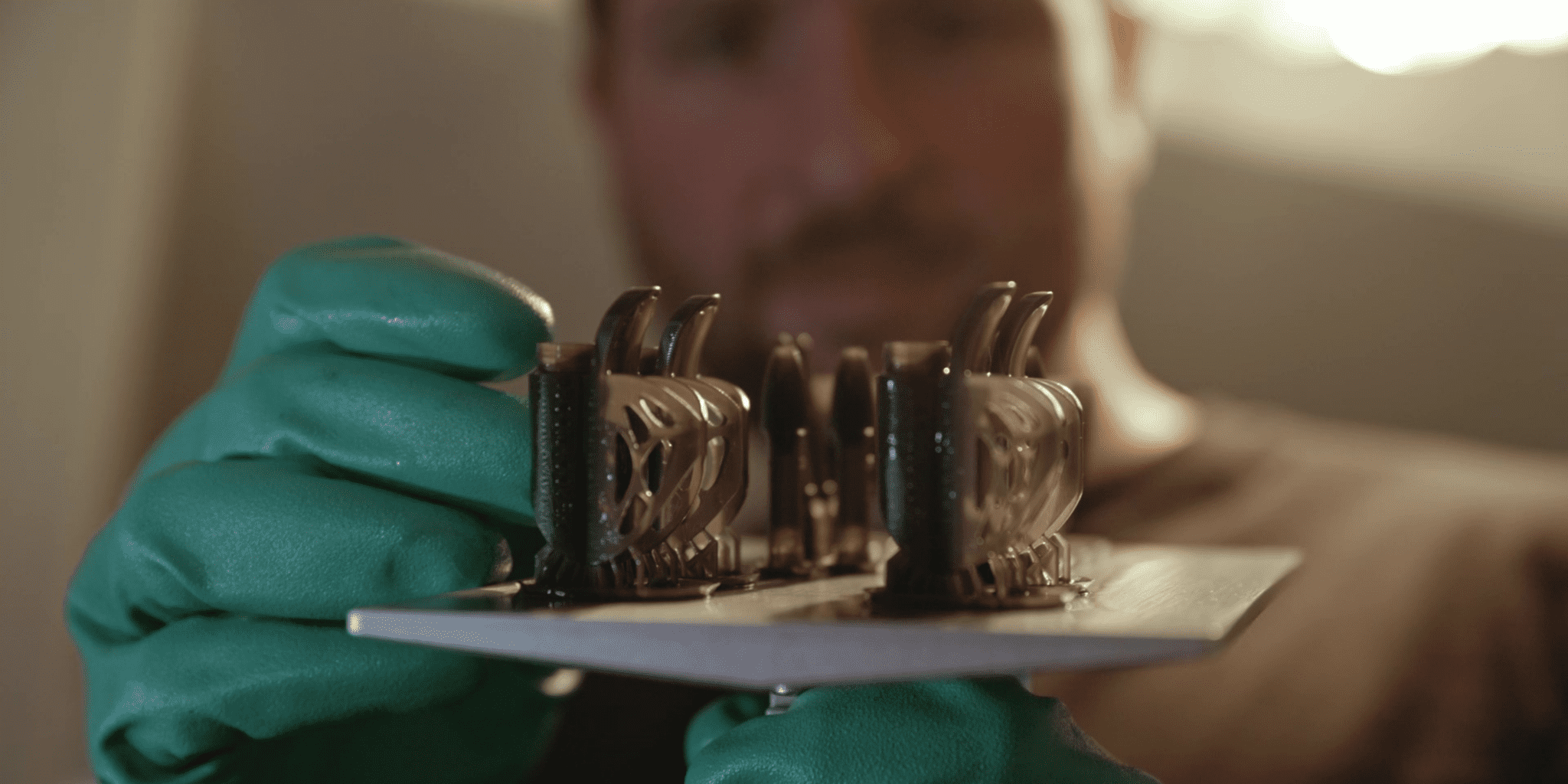 "We also had some initial prototypes printed with SLS 3D printing, but they were only used to check the functionality," states Nienkämper. "It was only with the help of Xometry that we found out we could add smoothing and colouring finishes. This meant we could achieve a product that is both functional and looks good".
Selective laser sintering was also used to print the first series. "We were surprised by the quality, texture, and dimensional accuracy. It took us a while to get there, but thanks to good communication with the manufacturers via Xometry, we were able to achieve decent results," he observes.
Nylon PA12 has proven to be the best solution in terms of material. This 3D printing plastic is heat-resistant, elastic, and stretchable with excellent resilience and high elongation at break. These properties compensated for the lack of strength of other materials. For instance, they initially underestimated how warm an index finger can get in summer or near a heater, making some printing materials too soft to use for the device.
Nylon PA12 is UV-stable, resistant to chemicals and weather and, above all, biocompatible. "After all, we have a product that is in contact with the skin, so we can't ignore this point," notes Nienkämper.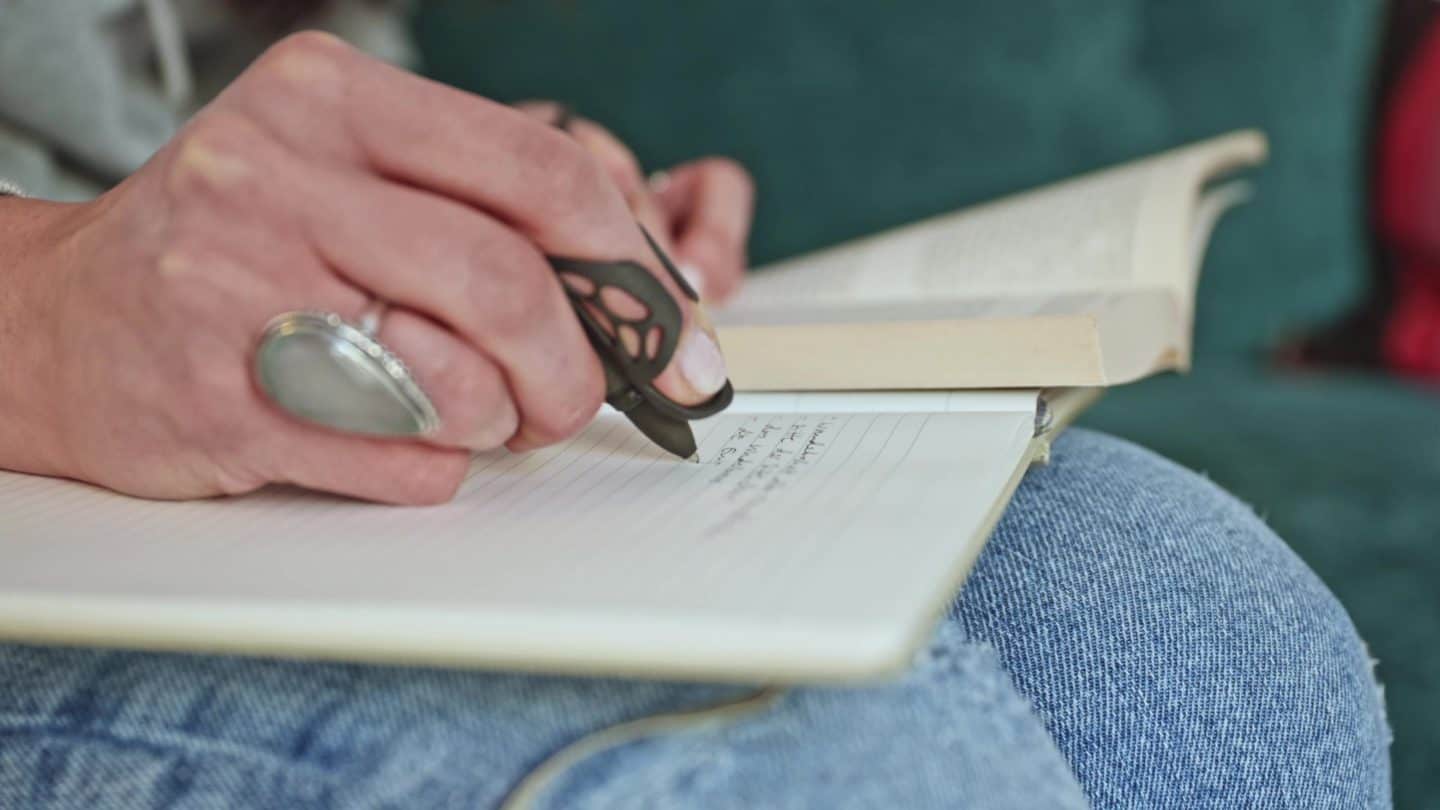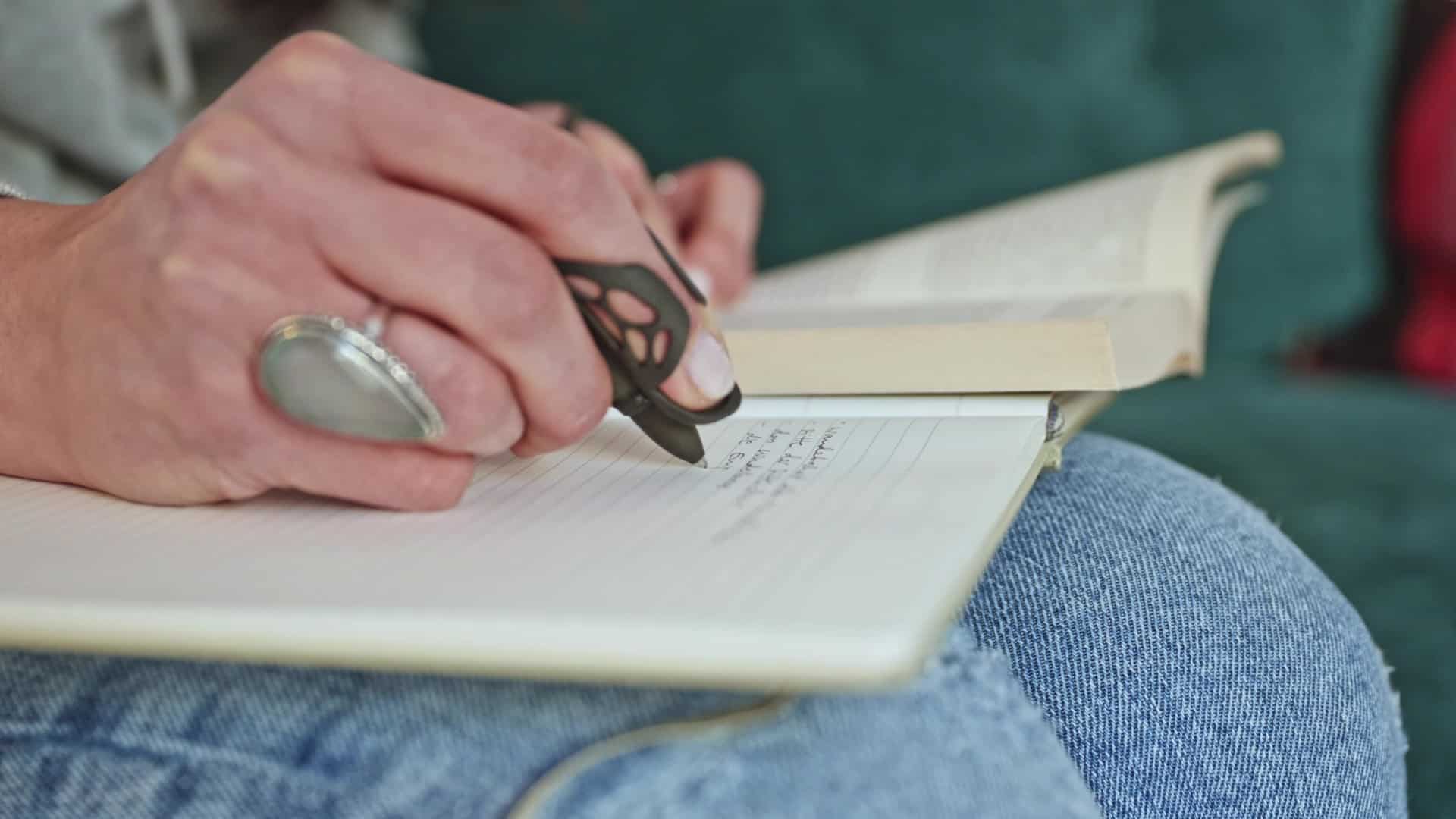 Xometry, a reliable partner for startups
In addition to sound advice on 3D technology and material, Xometry also demonstrated excellent communication skills. "So far, every request has been processed efficiently and the corresponding feedback has been provided quickly. For example, the cost of producing the first parts was very reasonable despite the extremely small number of units," says Nienkämper.
"This allowed us to complete meaningful tests and define our next steps. The Xometry team has familiarized itself with the topic so well that our wishes for the product could be implemented directly by the manufacturer," he adds.
A crowdfunding campaign to support innovation
Nienkämper and Kakuan are currently working on their Startnext campaign to raise funds for developing their project. After the first few weeks of the campaign, they have already reached 25% of the target amount, which brings them closer to the goal of producing the first larger print series with SLS 3D printing for the reading buddies.
"In exchange for financial support, we offer the Bookhoover at a reduced price and other attractive rewards such as an online speed reading course," explains Nienkämper.
The Bookhoover team is already working on a more advanced version of the Bookhoover with a focus on digital interfaces. Nienkämper now wants to raise the profile of focused reading and his reading buddy.
Bookhoover
• Check out Bookhoover's website: https://en.bookhoover.com/
• Support Bookhoover in their crowdfunding campaign: https://www.startnext.com/en/bookhoover
In return, you get the Bookhoover and other attractive thank-you gifts
• Contact Daniel Nienkämper from Bookhoover: contact@bookhoover.de