Industry: Astronomy equipment manufacturing
Manufacturing processes used: CNC machining
Challenges: Reducing lead times and costs while maintaining quality and efficiency. Finding reliable manufacturing partners who could handle increasing production demands.
Solutions: A reliable source for manufacturing, instant quotes and feedback, and part alterations for ease of manufacturing. An increase in efficiency and capacity through the Xometry Instant Quoting Engine and a hands-on approach to communication and project management.
—
JTW Astronomy founder, Mark Woodward, began his career as an apprentice CNC machinist. It all started with Woodward making bits and pieces for his own telescope in his spare time before starting to sell them on eBay. The company's first products consisted of various metal adapters, fittings, and other components for telescopes. It also started to produce webcams/DSLR cameras for more sensitive for astrophotography use.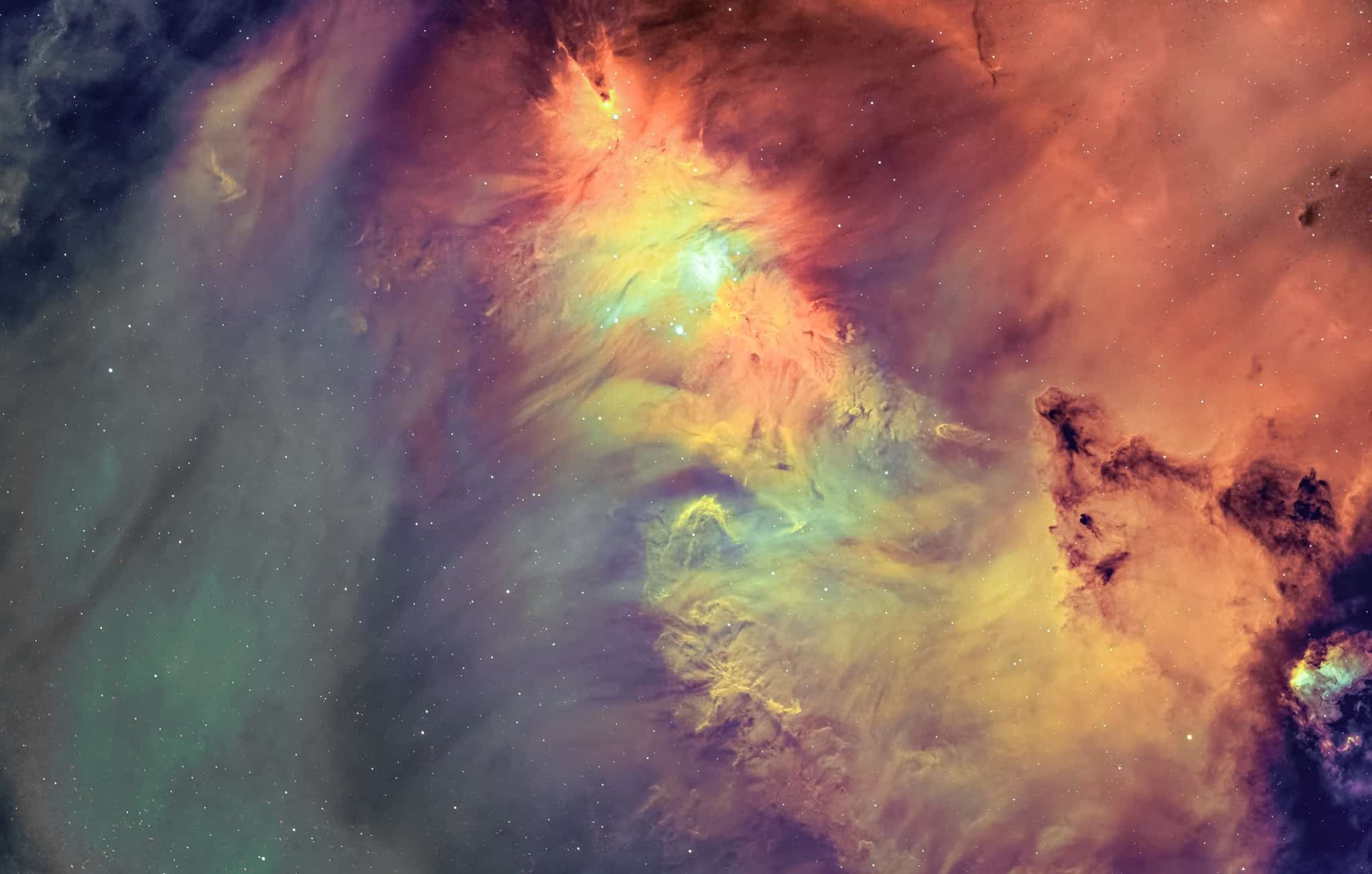 Revolutionising DSLR cameras
Woodward's passion for astrophotography led him to create 'deep cooled' DSLR cameras by fitting them into a machined housing cooled to -25°C. JTW Astronomy became the first company to produce this type of camera, thus revolutionising the astrophotography industry. The increasing popularity of astrophotography led to a surge in demand for JTW Astronomy's products, leading to the company's involvement in global projects funded by NASA and ESA.
As the company grew, it expanded its operations from an eBay shop to selling products all over the world. JTW Astronomy also embraced distributed manufacturing and outsourced the production of precision parts to Xometry, which allowed them to focus on growing their company and expanding their global reach.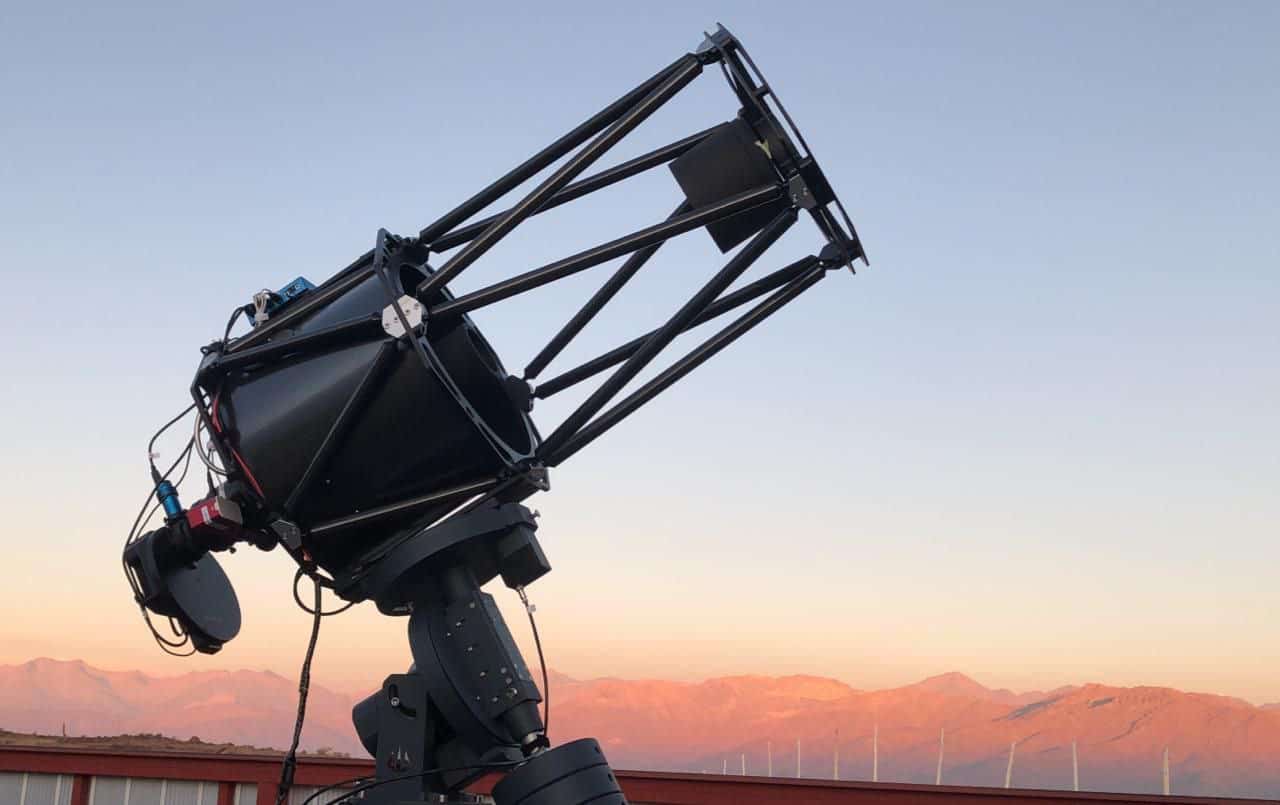 The Trident Telescope mount and using Xometry
The company's first big product was the Trident: a telescope mount with an exceptional basic model tracking accuracy of <0.1-0.2 arcseconds. It has garnered significant attention as it provides access to equipment and capabilities previously unavailable to individuals and institutions. The Trident achieves excellent real-world results despite seemingly ordinary specifications on paper. It features unique Direct Friction Drive technology designed in-house, enabling 25 times the resolution of a traditional servo motor while using stepper motors at one-tenth of the price.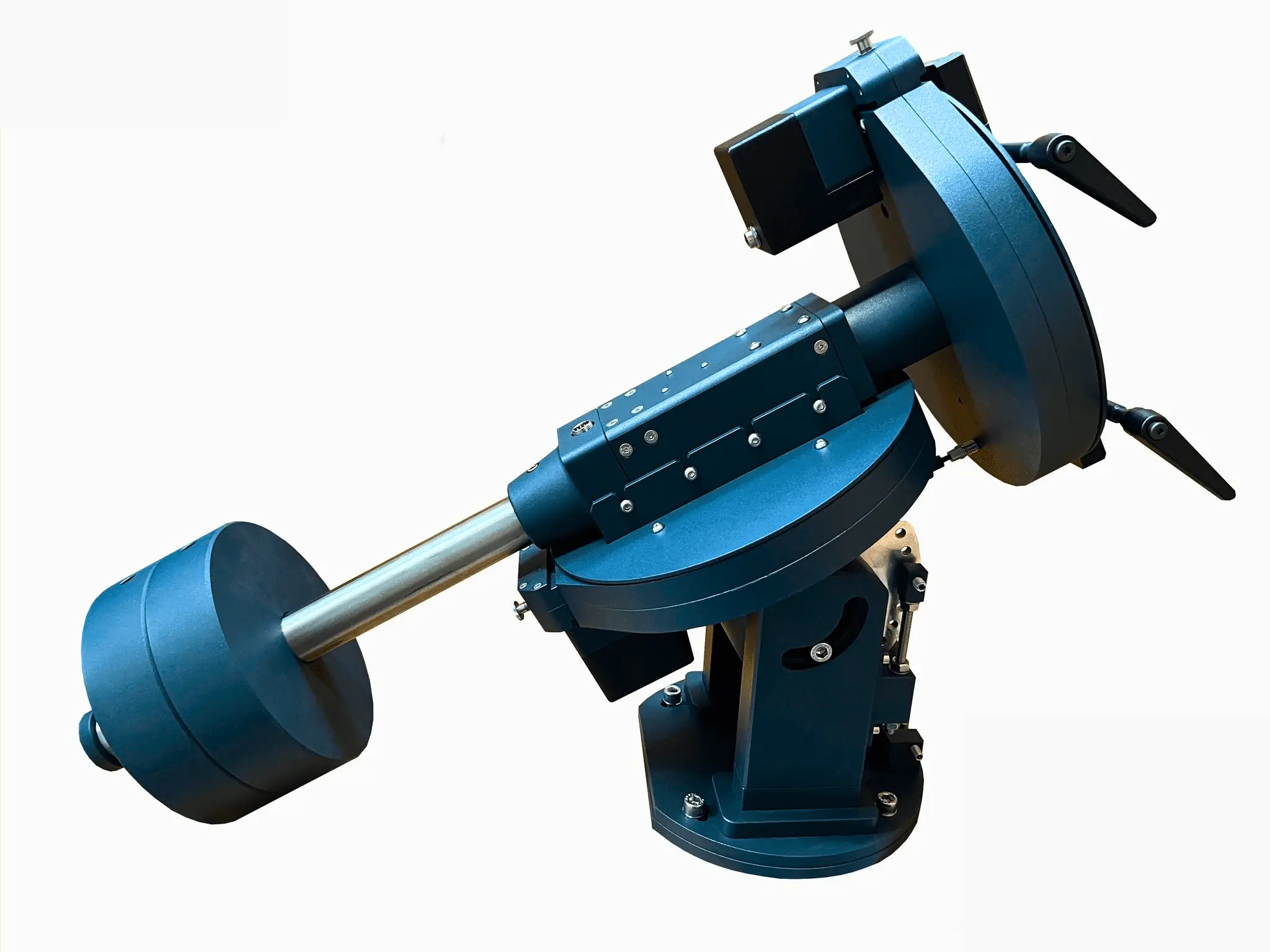 Woodward faced a common challenge in the industry: finding skilled machinists and technical experts to keep up with the demand for their product. As demand exceeded their internal production capacity, they were faced with a tough decision to either invest heavily in equipment and staff or find a more cost-effective solution. That's where Xometry came in.
By leveraging Xometry's services, JTW was able to produce several essential mechanical components that they didn't have the time or machinery for. Not only was it a more economical option for larger volumes of parts, but it also allowed them to focus on their core competencies and bring their innovative products to market faster.
The JTW Trident is just one of many products in development at JTW, and Xometry has played a crucial role in its success. The parts produced through Xometry were used for series production, thus allowing JTW to efficiently bring their product to market at scale. Discovering Xometry was a stroke of luck during some tough times at JTW.
"I was first introduced to Xometry when I worked at a night vision/thermal imaging device company that it supplied parts to and the rest is history," says Woodward.
In the competitive world of astronomy and tracking equipment, companies like JTW Astronomy must continually innovate to stay ahead. With Xometry as a trusted partner, the company can focus on creating innovative products that push the boundaries of what is possible in the field.
CNC machined parts with tight tolerances for Trident – produced via Xometry
JTW Astronomy strives to tackle challenging design requirements while maintaining practicality. They understand that a good design should not only be strong and complex, but also easy to manufacture and service. However, in some cases, it is necessary to prioritise complex design features over ease of manufacturing. Xometry Europe was able to produce several parts for JTW Astronomy that other companies refused to quote due to the tight tolerances and difficult materials involved.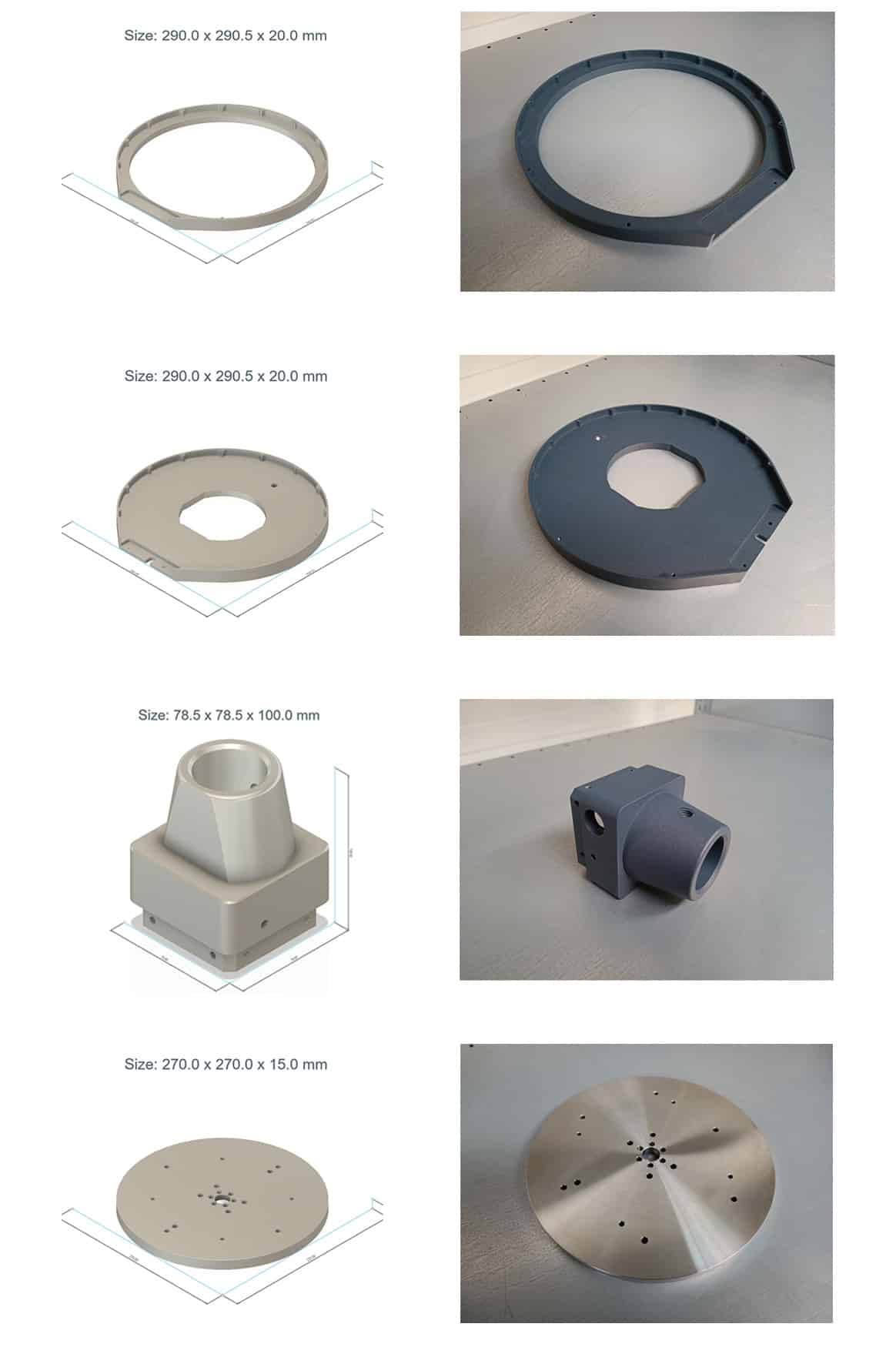 "To us, the most interesting components are the drive wheels. They have exceptionally tight tolerances and look so simple, but they are far from it. Each component has a story, including why we chose Xometry to produce it."
JTW outsourced the production of several components, including drive covers, dust covers, counterweight shaft mounts, and saddles to Xometry, since these components are time-consuming to manufacture and are required in high volumes. "Through cost-price analysis, we found that it was more cost-effective to have Xometry produce these components via CNC machining due to our own equipment not being optimised for the task," explains Woodward.
Xometry's ability to achieve lower material costs through high volume CNC machining production also played a role in the decision to outsource these components. "Additionally, I did not consider these components to be critical and did not see a need to produce them in-house."
The production of axles and drive wheels was also outsourced to Xometry as JTW Astronomy did not have the necessary CNC machining equipment to produce them in-house. Outsourcing to Xometry eliminated the need for JTW to invest in machinery, tooling, and staff. These components require a high degree of precision, which makes finding the right qualified staff even more difficult. Despite the high volume of production required, JTW Astronomy found the price to be reasonable for the quality of the components.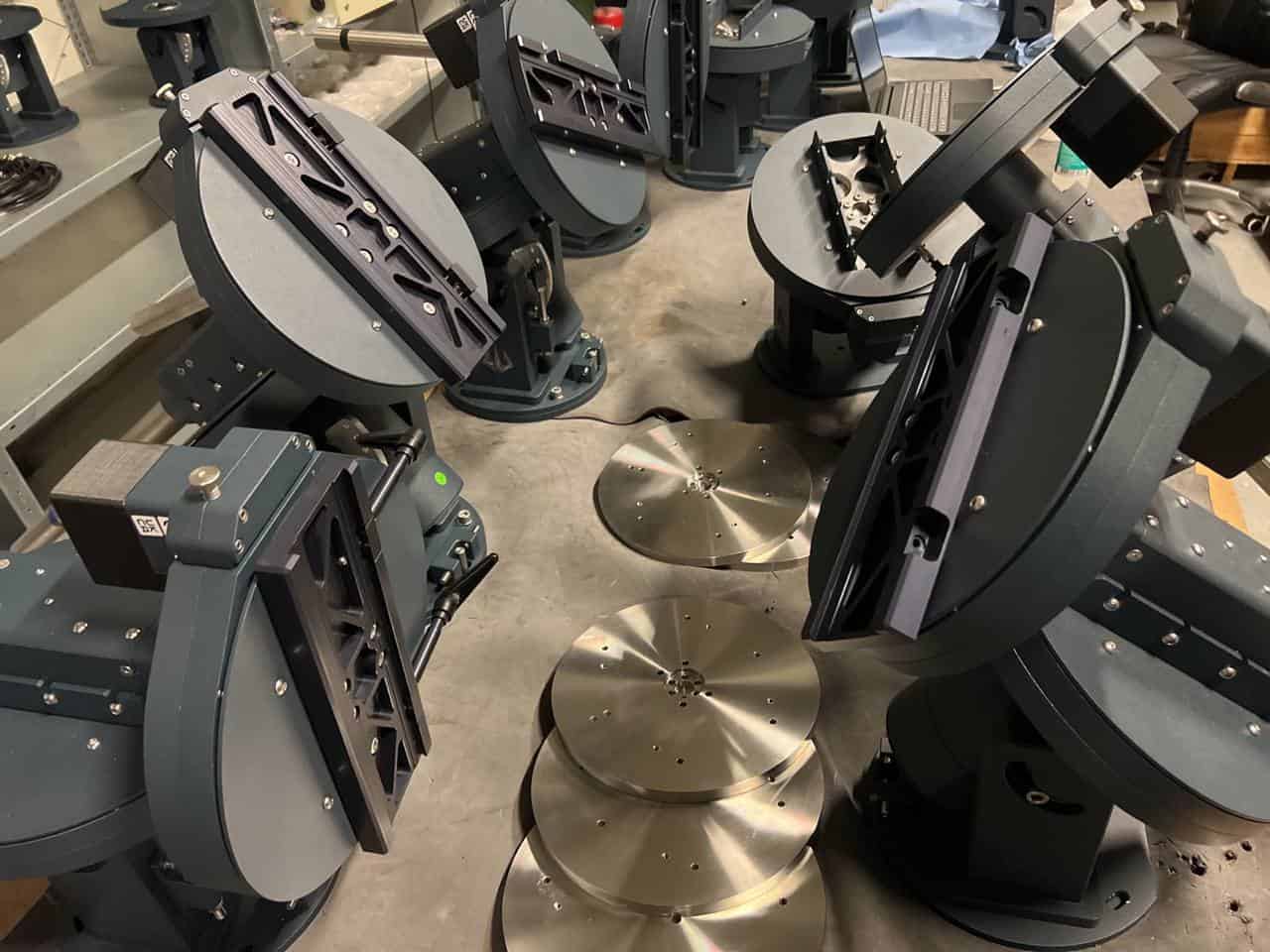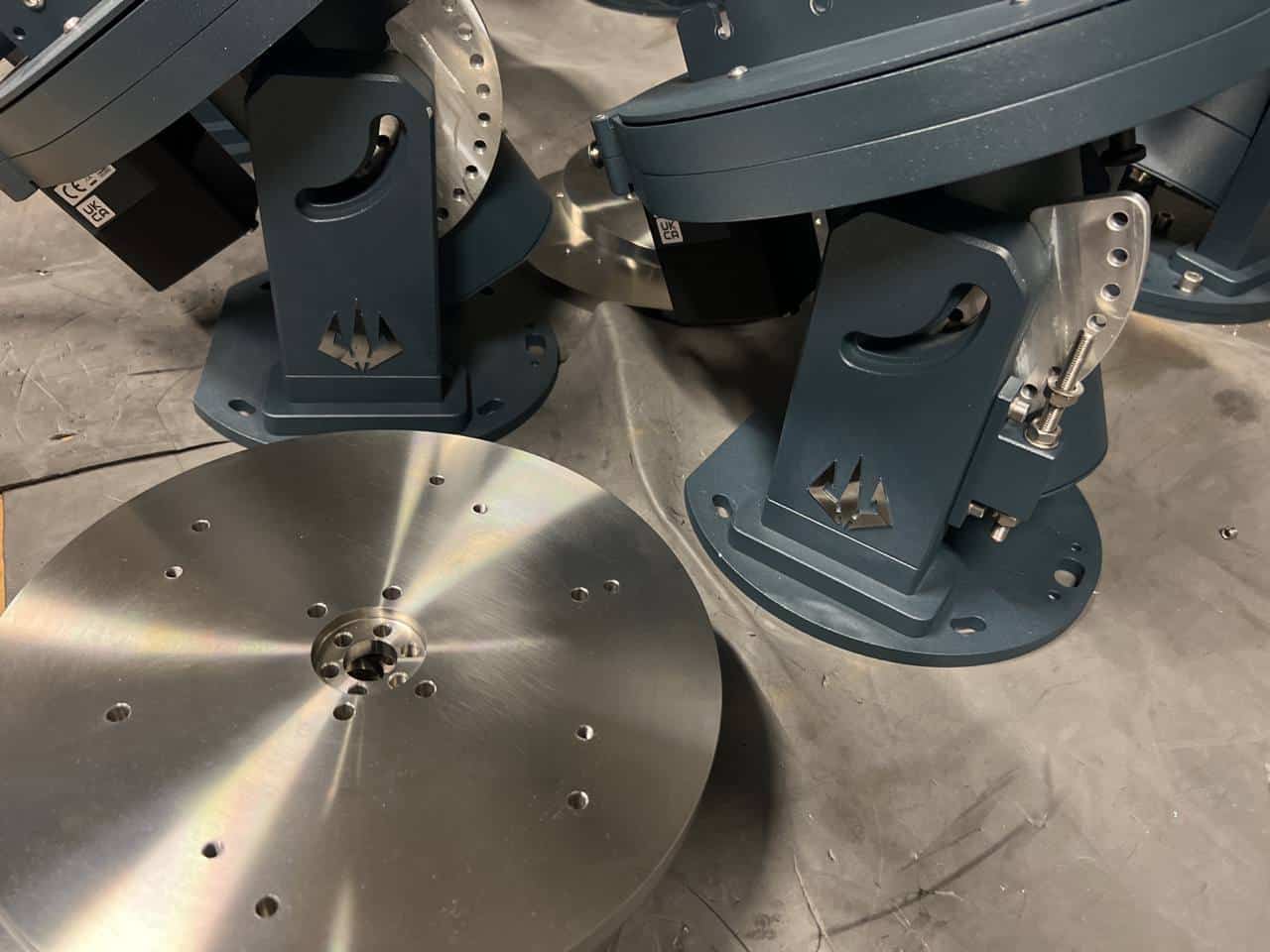 JTW Astronomy and Xometry: a successful partnership for simplifying manufacturing processes and reducing costs
The decision-making process for selecting manufacturing processes and materials is based on experience and calculations with a focus on simplicity and efficiency. Xometry has provided helpful feedback that has enabled the team to alter parts for ease of manufacturing or suitability for specific production methods, which has helped reduce lead times and costs. JTW Astronomy generally rates the quality of the parts as very good. If any issues do come up, they are handled extremely quickly thanks to Xometry's attentive customer care and production management teams.
The company has also used Xometry's Instant Quoting Engine for general parts, which is highly useful for rapidly getting parts into production. JTW also appreciates the hands-on approach by Xometry with personal contact and excellent communication when manual quoting is required . For the team, the main advantages of sourcing parts from Xometry are the increase in capacity, efficiency, short lead times, communication, and project management.
In the near future, JTW Astronomy plans to finish developing six new telescope mounts and put them into production. It also has potential future expansion plans or hopes to find a company/group to merge with. Lastly, it plans to continue using Xometry for upcoming manufacturing needs to keep achieving excellent results.
About JTW Astronomy
JTW Astronomy is a specialist producer of high performance telescopes and telescope equipment for projects and customers worldwide. Their mission is to make high performance equipment available to everyone.
Website: https://www.jtwastronomy.com/
Contact: info@jtwastronomy.com