HARPO – a Polish producer of assistive and educational devices for visually impaired people – shares the story about their company and creating a new device using the parts manufactured via Xometry.
by Jarosław Urbański, CEO at Harpo
We tend to use less and less paper. Only few of us can't live without a real paper-book or without reading an article or letter on paper, and the number is decreasing. E-book readers do their way towards paperless life, computers add to that.
For visually impaired people who can't read black print letters on paper, technology has a solution of synthetic speech that is widely used in personal computers and mobile devices nowadays. In education, though, literacy is the foundation stone. Without true literacy, a person's access to communication is stunted, access to knowledge, data and further learning is severely constrained.
Here comes an invention that is 190 years old: Braille notation. Louis Braille used paper to punch tactile dots that form patterns readable with finger tips. This invention is now changed to paperless with use of refreshable Braille devices that "display" dots on a plastic bar by moving tips of plastic pins up or down, in effect forming an identical pattern to the one used by Louis Braille on paper, but.. without paper. Devices of that kind are built at Harpo in Poznań, Poland.
When it comes to early education it seems that teaching to read and write is done with a good reason on paper. Both for sight and visually impaired children. The former learn hand-written and black-print letters, the latter learn Braille. During the learning process, it is crucial that children can scribble, experience trial/error, learn new concepts, e.g. a concept of word, sentence, paragraph, line of text, page of text. The young students need to learn new concepts, solve problems and finally – in the modern world – interact with an electronic device. All of that is possible thanks to a unique device called Mountbatten Brailler that has been produced by HARPO since 2010.
Mountbatten Brailler Tutor
Back in 2016 Harpo management made a decision to design a new version of the device – Mountbatten Brailler Tutor.
The new machine is full of moving parts, has several motors and lots of sensors to make dots in proper places on a paper sheet. And there is a microcomputer sitting inside that does all the logic and communication with many devices like iPad, iPhone, Windows or Mac PCs, regular printers etc.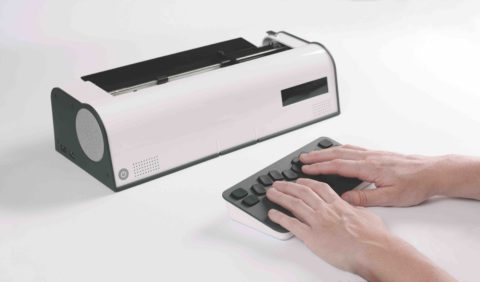 The most precise and most heavily used mechanical part of Mountbatten Brailler (MB) Tutor is the embossing head. It moves across a line of text, punches paper with one of four pins against an embossing arm that is placed above the sheet of paper – all that to make a Braille character. The text embossed may consist of 8 dots (in computerised version) and is immediately readable to the user – a child can put his or her finger left of the embossing arm to read the text even while the next character is being embossed.
Manufacturing Challenges
The head has to punch about 100 dots per minute and all of the dots must be of exactly the same shape across the page. In simple words – it must be manufactured with the highest precision (of a few micrometers).
Mechanical parts are made with a very wide range of technologies: some are produced by injection moulding using modern materials, some are made with CNC milling techniques, yet other – with CNC turning or sheet metal processing. The housing of the device is produced using thermoforming with 5-axis milling technology, due to the low volume of production and predicted variants.
The biggest challenge for the mechanical engineer at Harpo was to translate the industrial design project into mechanical design of particular parts. That required a good contact with a reliable supplier, and some additional advice on manufacturing of parts. Harpo has contacted several companies and decided to choose Xometry as its strategic partner. Xometry proved to be able to maintain good contact and provide fast and professional valuation of any manufacturing job. In many cases the engineers from Xometry did help by consulting on technologies Harpo could use to produce certain elements. The elements Xometry produced for the innovative device were delivered in a short time and for a fair price. The aluminum parts were CNC milled and post-processed by black anodizing.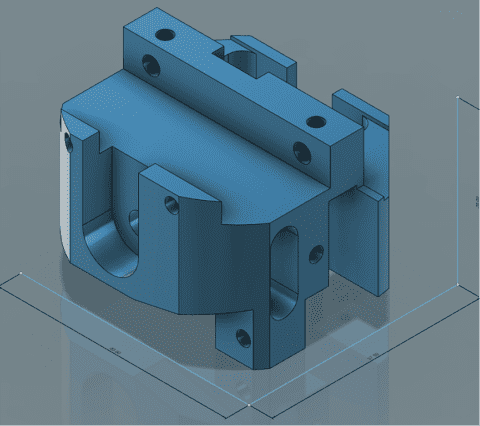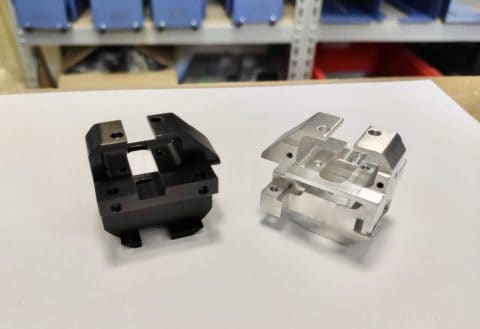 We believe the outcome – a modern literacy tool for visually impaired children – will prove to serve generations of young Braille readers.
More about HARPO
Visit Harpo's website:
More about Xometry
Xometry is the world's leading on-demand manufacturing platform. We offer massive capacity, instant online quotes, and attractive pricing. Our European network of over 1,500 manufacturing facilities enables us to maintain consistently fast lead times while offering a broad array of capabilities, including CNC Machining, 3D Printing, Sheet Metal Fabrication. Xometry works with a diverse customer base, ranging from startups to Fortune 100 companies such as BMW or Bosch. We can make anything from a single prototype to 100,000 parts and would be honored to work with you!