3D printing offers great possibilities and many varieties when it comes to printing flexible and rubber-like material. From production parts for industrial applications to innovative and cool projects for hobbyists, this is something to check out.
Let us take a look at the options of flexible materials for 3D printing technologies available at Xometry.
Shore hardness indicators of different 3D printing materials
When it comes to flexible materials, shore hardness is one of the main properties to look out for.
The shore hardness scales were created to provide a common reference point when comparing different materials. It is measured using a durometer gauge. There are different shore hardness scales for measuring the hardness of different materials for 3D printing:
Shore OO scale measures extremely soft materials like gels (e.g. gel insoles)
Shore A scale measures a wide range of material types, from very soft and flexible to semi-rigid polymers with almost no flexibility at all
Shore D scale measures very hard rubbers, semi-rigid and rigid polymers (e.g. PVC pipe)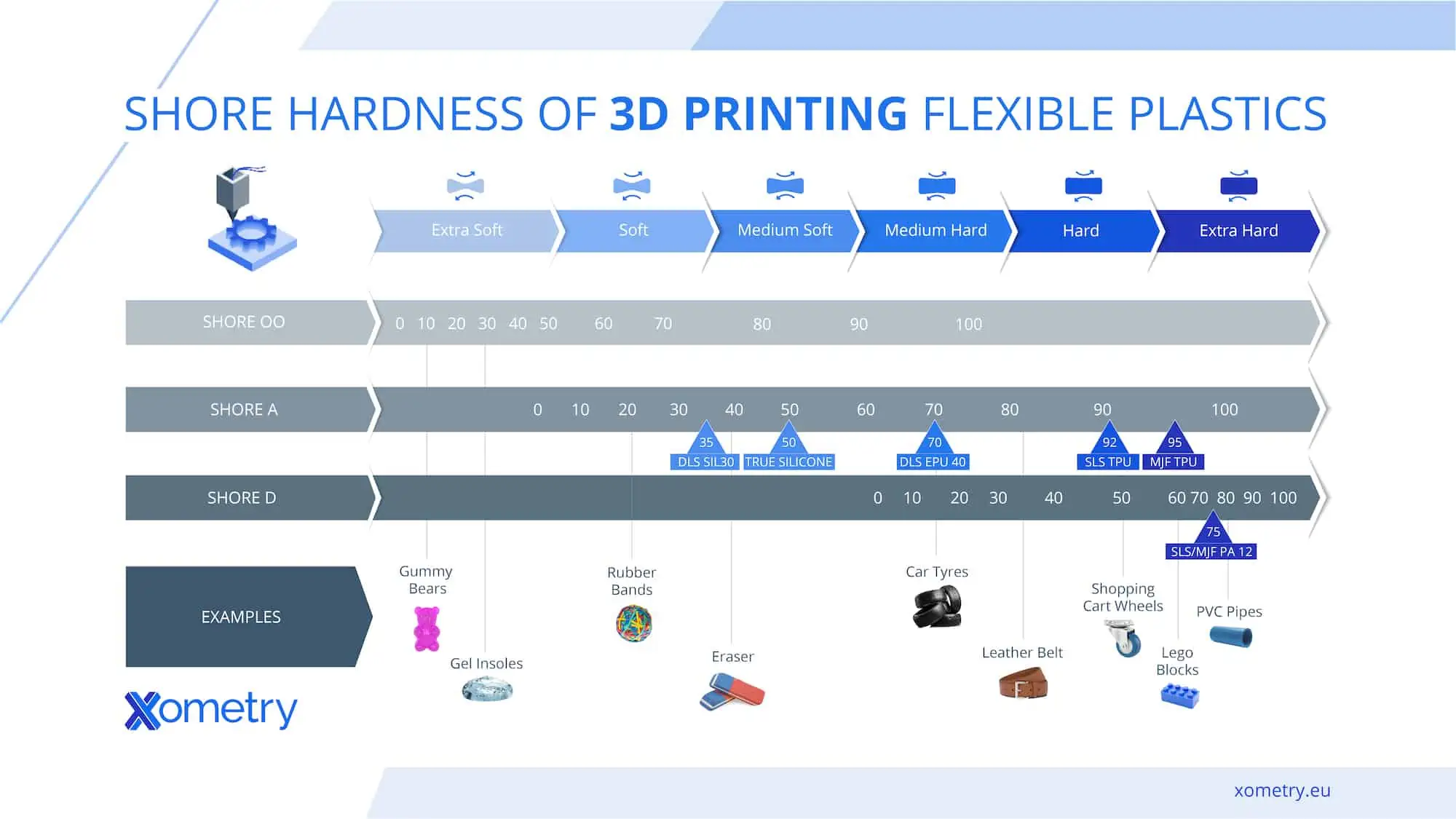 As you can see from the image, there is an overlap on the different scales. For example, a material with a Shore hardness of 95A is also a Shore 50D.
Flexible 3D printing materials available at Xometry
Different 3D printing technologies require different polymers, resins or other flexible materials to print. Let us see what print material each technology requires and its properties in detail.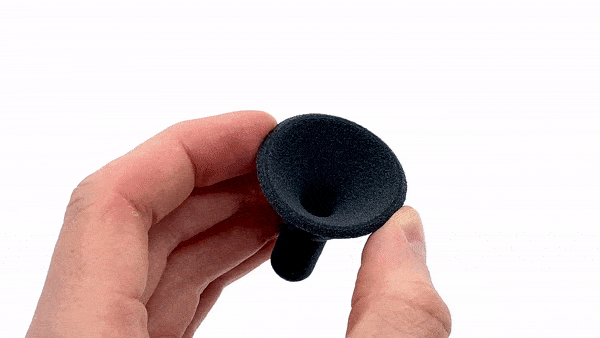 Thermoplastic polyurethane (TPU)
TPU materials belong to the Thermoplastic Elastomers category. TPEs are a versatile and popular material for 3D printing applications, offering users a range of benefits, including flexibility, durability, and ease of processing.
TPU Polyurethane
Commonly known as Ultrasint™ TPU 01 is a multi-purpose material for application exclusively in Multi Jet Fusion (MJF). This flexible material is a thermoplastic urethane, with flexibility, high tear strength and offers good details. Thermoplastic polyurethane for 3D printing offers unique possibilities that are otherwise tough to achieve with other 3D printing materials like ABS, PLA or Nylon.
Combining the properties of both plastic and rubber, TPU can produce parts with good flexibility and shock absorption, with a high level of detail. The material exhibits stiff rubber-like qualities – much like a skateboard wheel – allowing for a range of end-use applications. In addition, the material is easy to print and has good UV and hydrolysis resistance.
Key features: Semi-flexible • Resistance to chemicals
Applications: Automotive instrument panels, medical devices, power tools…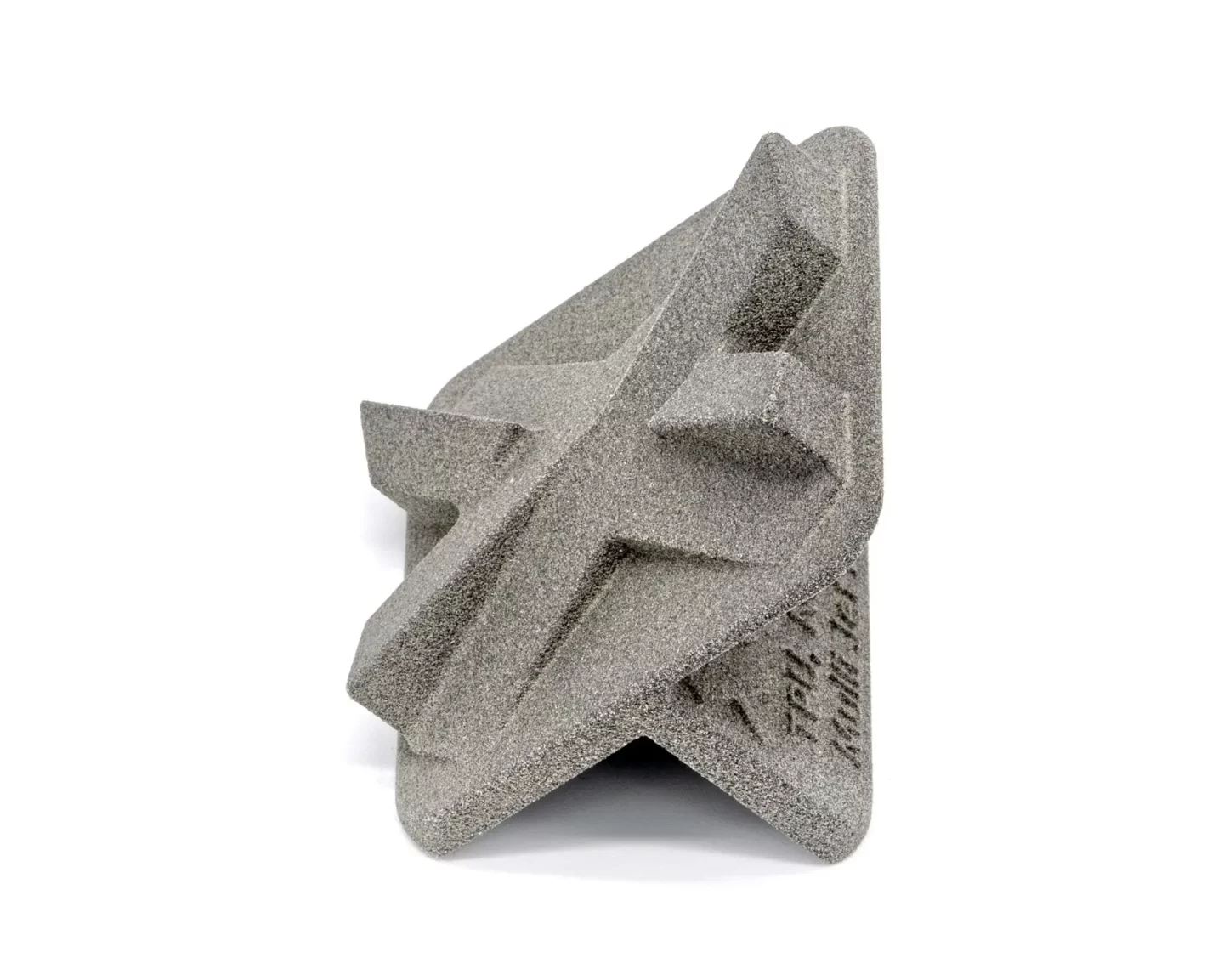 Flex TPU
If you require a rubbery and flexible material, Flex TPU for Selective laser sintering (SLS) is the perfect option. With good resilience after deformation and high Ultraviolet (UV) stability, this elastomeric SLS TPU offers many advantages.
By creating an interesting structural design, parts can be 3D printed for various industrial applications, from automotive to footwear industries. The material gives a smooth white surface and also offers good hydrolysis resistance, great shock absorption.
Key features: Great elasticity · High strength · Resistant to chemicals
Applications: Automotive, footwear end-us products like running shoes
TPU flexible materials can be also used with FDM printing, but usually, such 3D prints are of lower quality than when printed using powder-based technologies like SLS or MJF, moreover, they almost don't differ in price.
Properties of TPU
There are a few exclusive key properties of TPU materials which benefit the industries.
Abrasion/Scratch resistance
High abrasion and scratch resistance means durability and high aesthetic value. A TPU material gives excellent results compared to other thermoplastic elastomers when abrasion and scratch resistance are critical for an application like automotive interior parts, sports and technical parts.
UV Resistance
Apart from maintaining good mechanical properties, these flexible materials also show extraordinary stability to ultraviolet radiation and thus superior colour stability. For both light & dark colour parts, industries can rely on TPU's high scratch resistance & UV performance as TPUs ensure colour fastness to the aesthetic parts.
High flexibility
TPU materials offer high flexibility, shock absorption and rebound and are excellent choices for making footwear, sports equipment and orthopaedic models. This property is very helpful when it comes to automotive interiors and air filter covers.
Other Advantages
Good elasticity over a wide temperature range
Excellent low-temperature and impact strength
Robust weather and high-energy radiation resistance
Great elasticity across the entire hardness range
Resilience to oils, greases and numerous solvents
Silicone rubber flexible materials
Silicone rubber is a type of elastomer that is known for its flexibility and durability. These properties make it a suitable material for use in 3D printing, particularly in applications where the printed object needs to be flexible and able to withstand high temperatures and harsh environments.
One of the advantages of using silicone rubber in 3D printing is that it has a wide range of Shore hardness values, so it can be tailored to have the specific level of flexibility and high durability required for a particular application. It also has good thermal resistance and a high level of chemical resistance, making it suitable for use in harsh environments.
Silicone rubber is also suitable for creating flexible and stretchable objects, such as seals and gaskets, as well as for prototyping and small-scale production of flexible parts with very good print quality.
True Silicone
True Silicone has a high resolution, an excellent surface finish, and is resistant to acids, bases and non-polar solvents. It has high wear resistance, elasticity and high reproducibility after deformation or loading. It's biocompatible and certified in accordance with ISO 10993. This material is suitable for small-sized parts printed in stereolithography (SLA).
Key features: High wear resistance • Elasticity • High resolution
Applications: Prosthetics, wearables, sealing elements, gaskets
Flexible CLIP resins
CLIP resins are a class of high-quality resins used with Carbon DLS additive manufacturing technology. At Xometry, we offer three types of flexible CLIP resins.
EPU 40 (Elastomeric Polyurethane)
EPU 40 is a high-performance polyurethane elastomer that is a good choice for applications where high elasticity and tear resistance are needed. Elastomeric Polyurethane CLIP Resin, due to its high performance allows excellent elastic behaviour under cyclic tensile and compressive loads. You can stretch it and bend it, it takes back its original printed shape.
EPU 40 is comparable to commercial TPUs with a Shore hardness of 70A. EPU resin is rubbery, resistant, flexible and stretchable, with a layer thickness of 100 µm or 0.1 mm which are almost invisible. Parts are then very close to injection moulded models, which makes it very interesting for prototyping.
Key Features: Highly elastic, tear resistant, chemical and bio compatibility
Applications: Gaskets and seals, shock absorbers, vibration isolators


FPU 50 (Flexible Polyurethane)
FPU 50 is an impact, abrasion and fatigue resistant semi-rigid material that is a good choice for parts that must withstand repetitive stresses. This material can be ideal for tough enclosures, hinging mechanisms, and friction fits.
FPU is comparable to PP (Polypropylene) for its excellent fatigue and heat resistance. Features as thin as 0.25 mm can be 3D printed and it is not rubbery and elastic like EPU 40, but it has an elongation at break of 200%.
Key Features: Tough and fatigue resistant, high tensile strength, high impact and yield strength
Applications: Snap fits, strain reliefs, mounts and brackets to encapsulate small electric circuits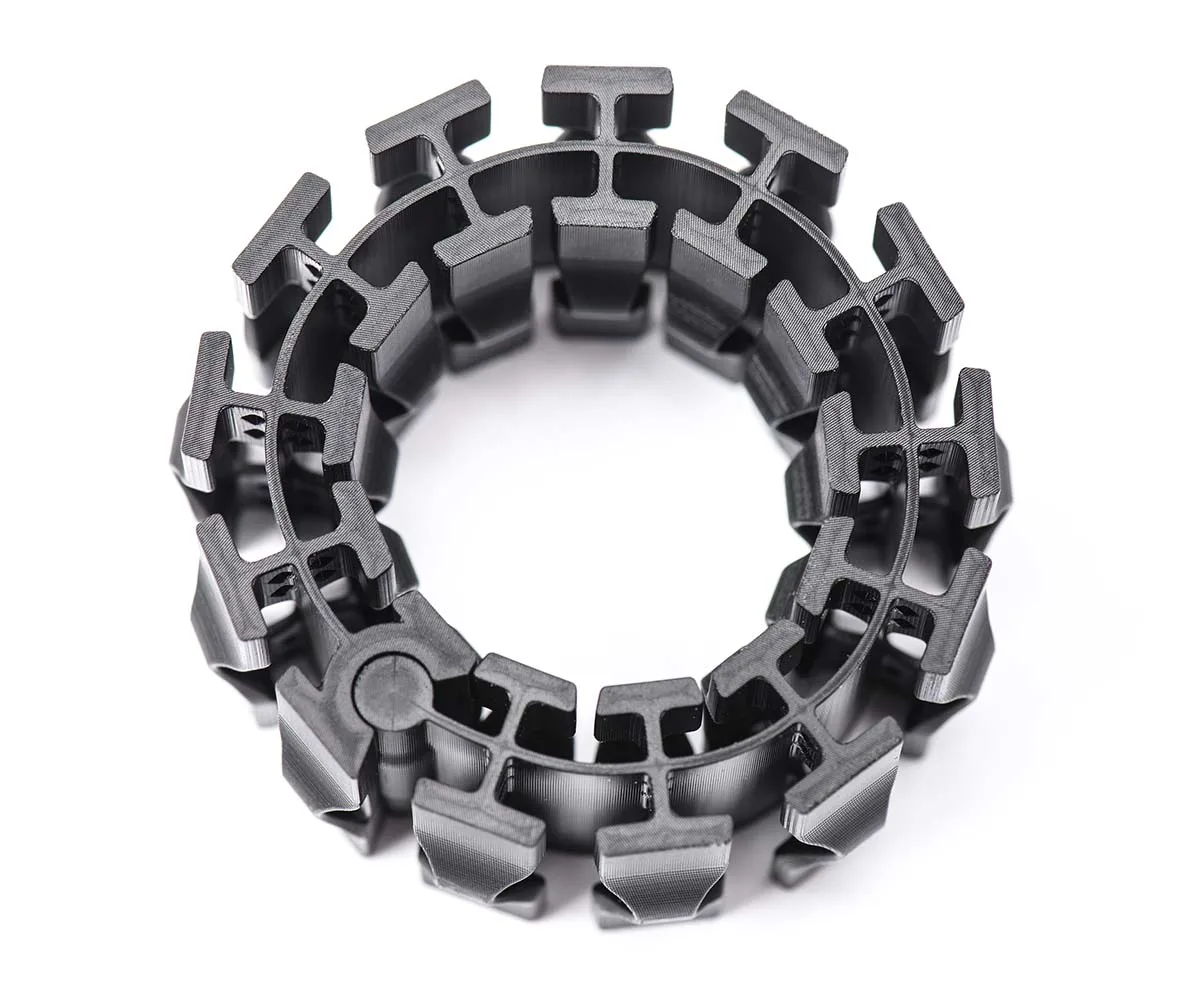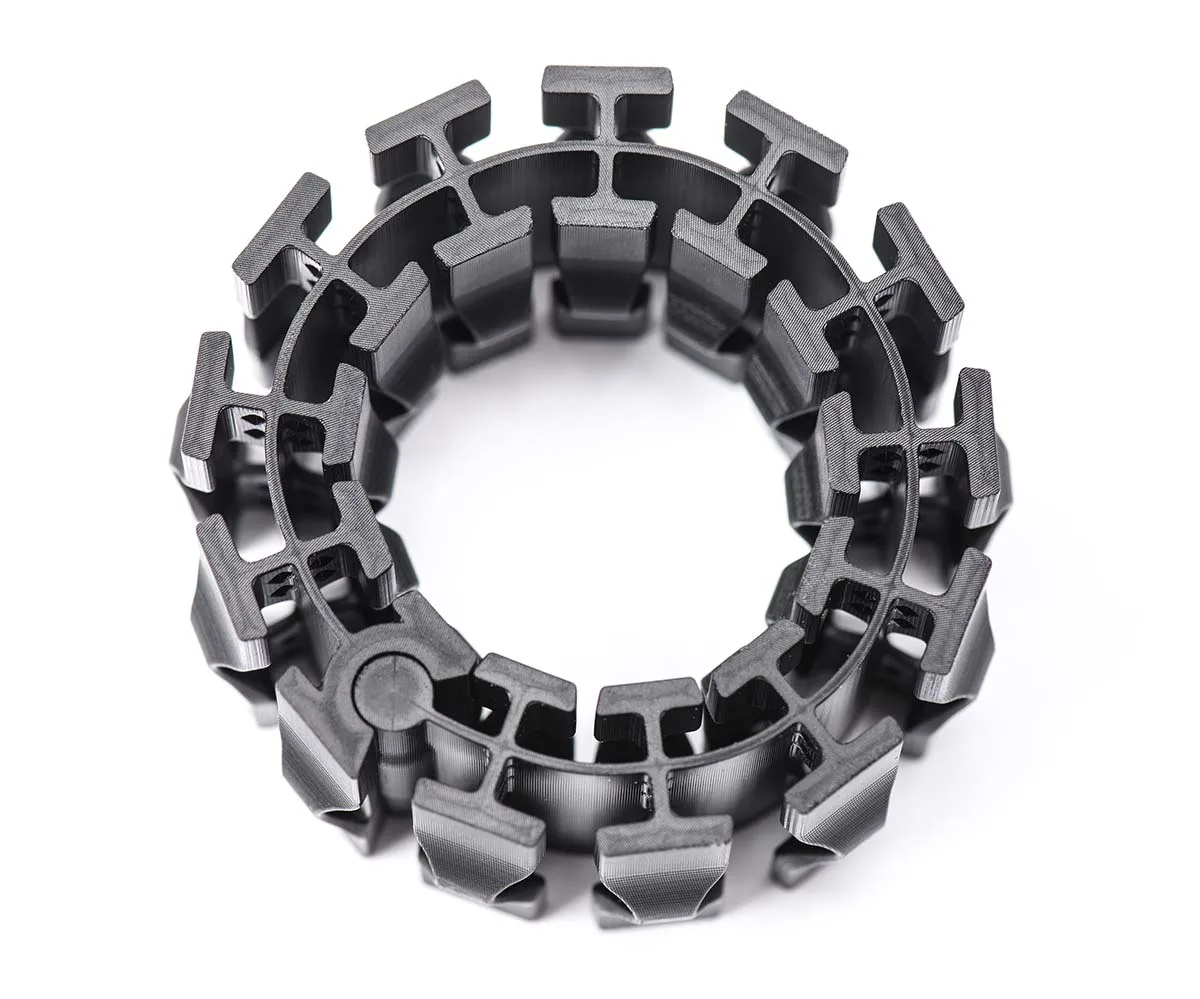 SIL 30 (Silicone)
SIL, a silicon-urethane material is comparable to commercial TPEs with a Shore A hardness of 35. CLIP technology enables 3D printing with novel classes of polymers, including complex chemistries such as polyurethane and cyanate ester-based resins. The result is a diverse and growing selection of materials reflecting common engineering requirements.
Key features: Soft touch, biocompatible, tear resistant
Applications: Wearable (Wrist bands, headphone pads), medical equipment
All of these CLIP resins are suitable for long-term (>30 days) skin contact. Similarly, all can be used for short-term (<24 hours) mucosal contact except EPU 40, which is suitable for skin contact only. Hence, they find their way into printing safe materials in the medical industry as well.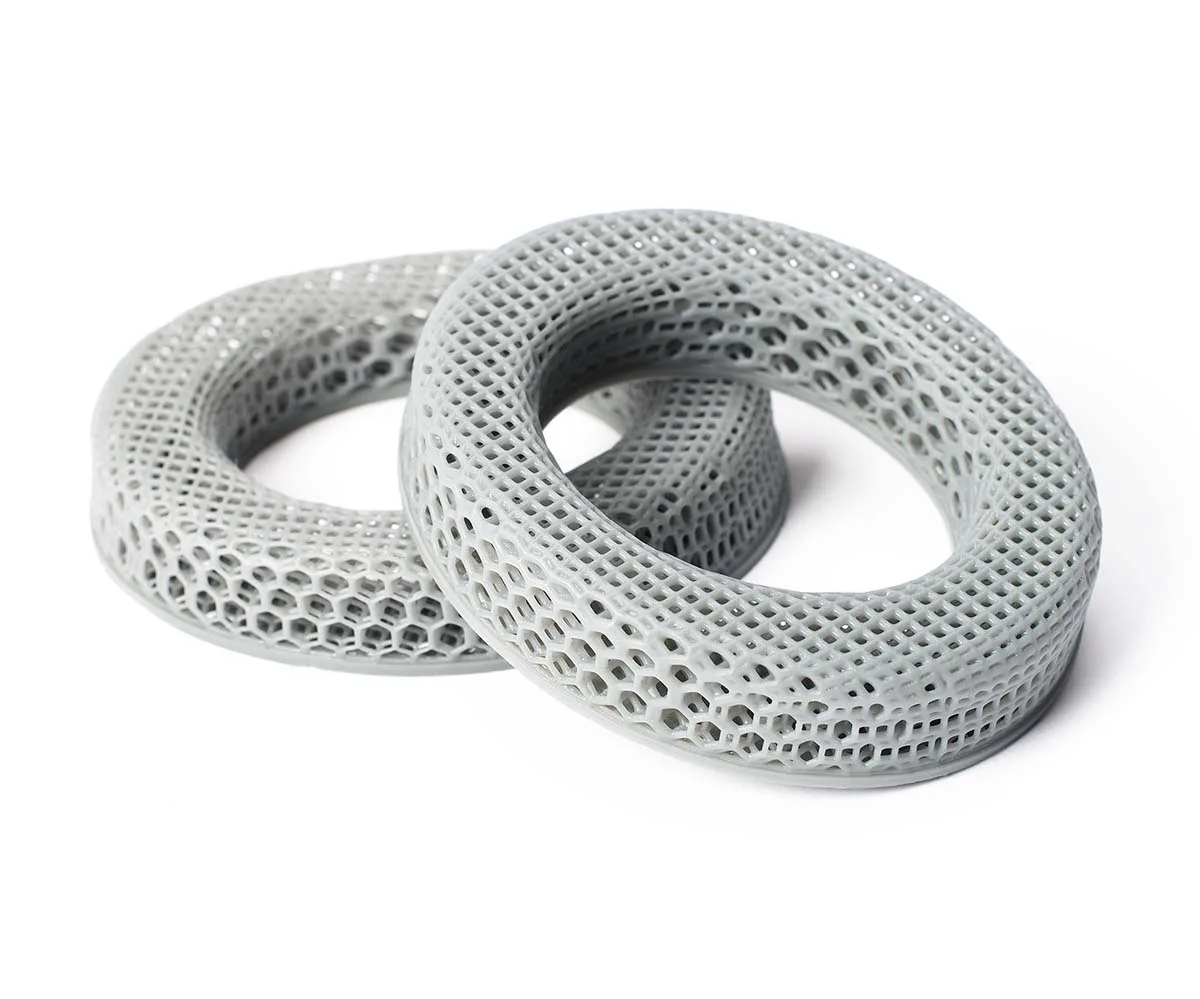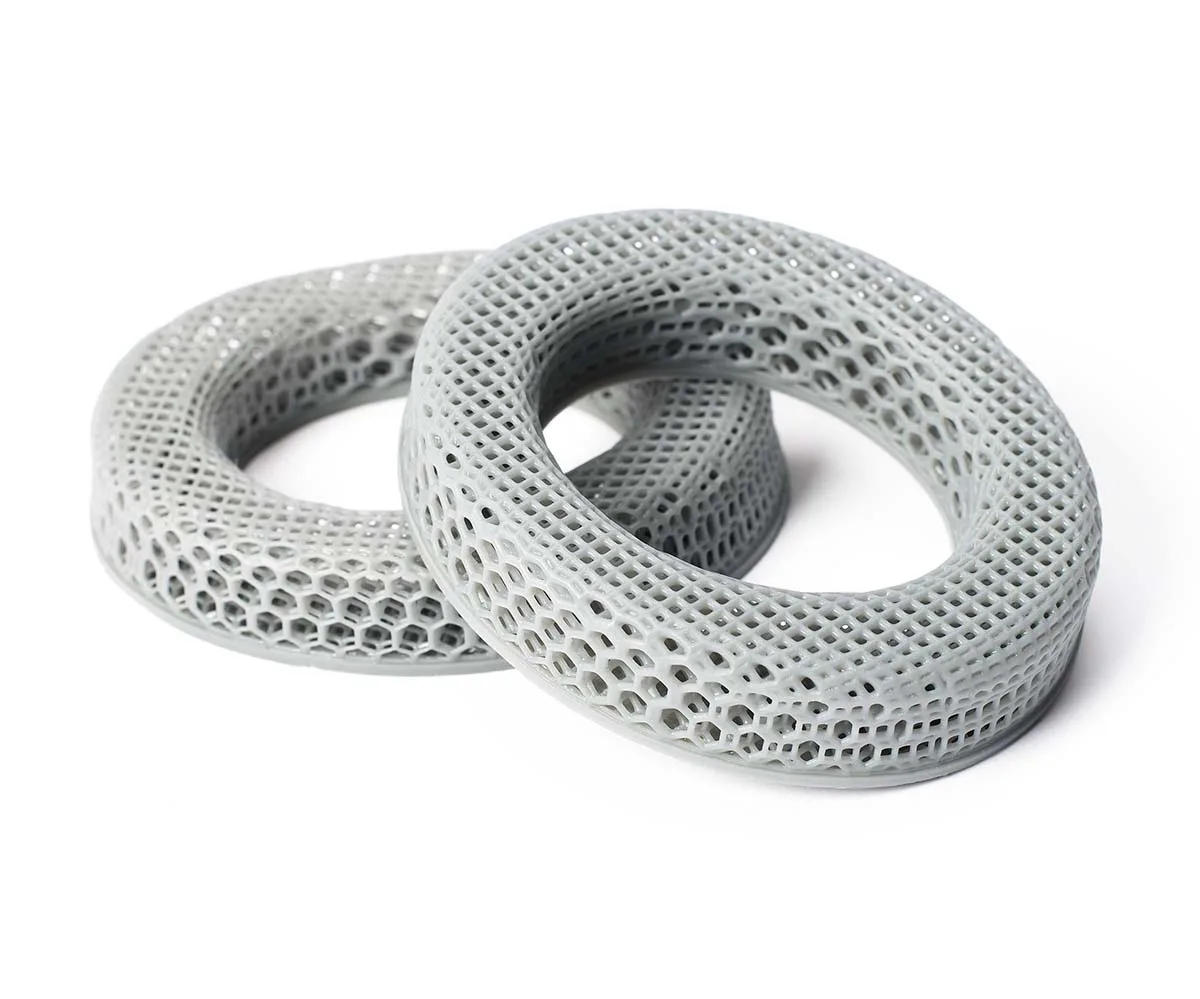 Flexible materials cost comparison
Let's have a comparison of the different flexible materials in Xometry's Instant Quoting Engine:
| | | | | |
| --- | --- | --- | --- | --- |
| Flexible materials | 3D printing technology | Shore hardness | Tensile strength | Elongation at break |
| TPU Polyurethane | MJF | 95 Shore A | 8.6 MPa | 580% |
| Flex TPU | SLS | 85 – 90 Shore A | 7 MPa | 250% |
| True Silicone | SLA | 50 Shore A | 7.25 N/mm² | 530% |
| EPU 40 | Carbon DLS | 70 Shore A | 19 MPa | 400% |
| FPU 50 | Carbon DLS | 71 Shore D | 25 MPa | 200% |
| SIL 30 | Carbon DLS | 35 Shore A | 3.5 MPa | 350% |
Conclusion
There are three main types of flexible materials for 3D printing available on the mass market with different print quality: TPU materials, CLIP resins and silicone rubbers. If you're looking for more affordable parts, TPU materials are the perfect fit, while you can go for more expensive CLIP resins if you require advanced material properties like high strength or tear resistance.
Xometry offers 3D printing services with flexible materials for rapid prototyping and various industrial applications. Upload your CAD files and check out the price options.