Vacuum casting, also called urethane casting, is a manufacturing process used to create small quantities of high-quality plastic or metal parts. It involves creating a mould of the desired part and then injecting liquid plastic or metal into the mould under a vacuum. This creates a uniform and detailed part with an excellent surface finish and dimensional accuracy.
Let's see what are the fundamentals of vacuum casting, its applications and its limitations.
What is vacuum casting?
Casting is a manufacturing process in which a liquid material is poured into a mould and allowed to solidify. Vacuum casting involves using a vacuum to remove air from the mould, which helps ensure that the object takes on the desired shape.
This process is often used for casting plastics and rubber parts. Vacuum casting is often used for prototype projects or small-scale production runs, as it can be faster and less expensive than other methods, such as injection moulding.
The main advantage of vacuum casting is that it allows for high accuracy and repeatability, making it an ideal choice for applications where precise dimensions are critical. It also allows for more intricate designs to be cast. However, vacuum casting is not suitable for all applications. For example, it cannot be used to cast materials that are sensitive to heat or pressure.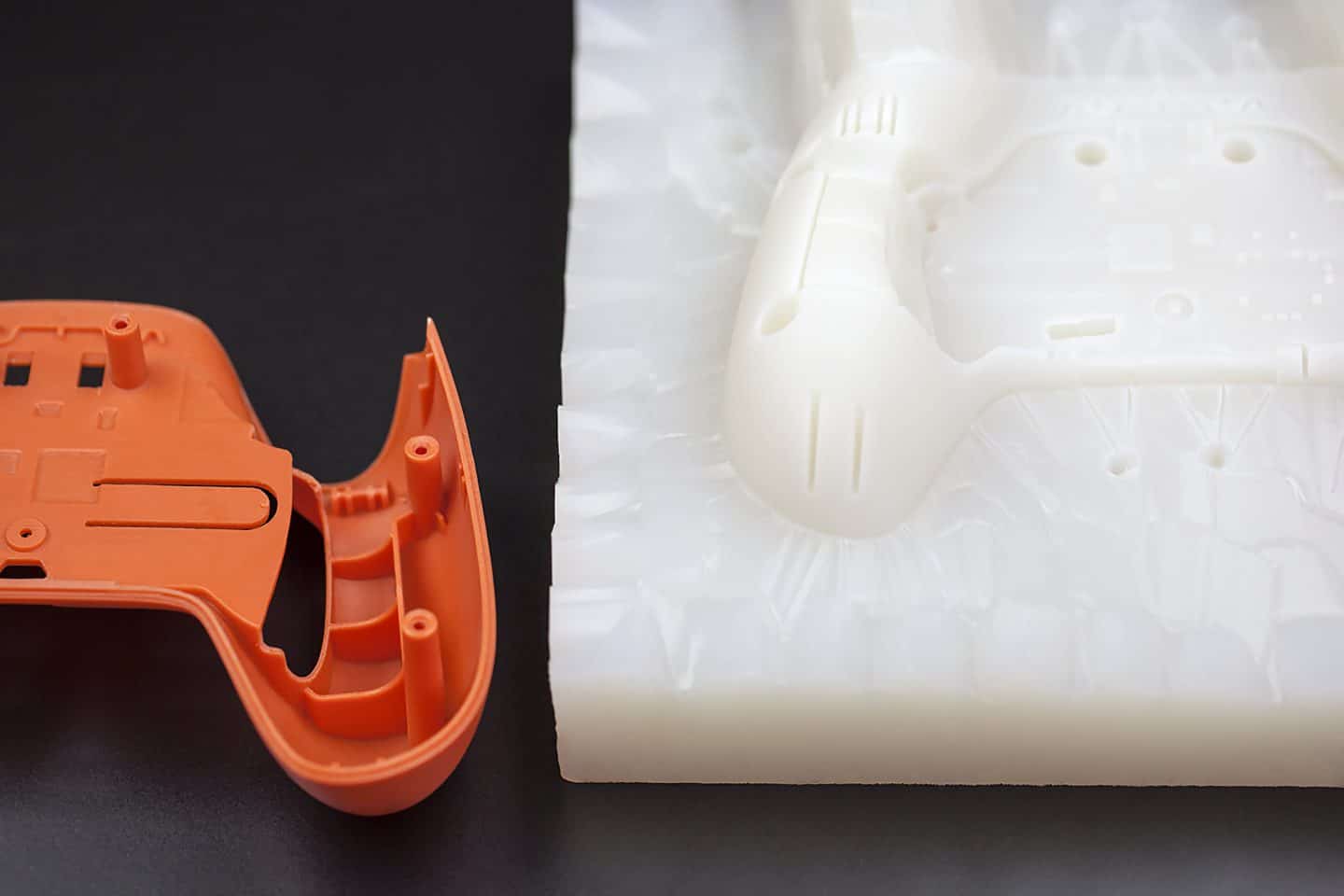 How does vacuum casting work?
Vacuum casting, like conventional injection moulding, needs a mould tool with a cavity shaped like the finished object. In contrast to injection moulding, vacuum casting uses silicone moulds rather than hard metal ones.

Step 1: Create a 3D model
As with most contemporary manufacturing processes, the first step is to create a 3D model of the desired form. To get the best results, objects intended for vacuum casting should be made following injection moulding principles. Any design software such as AutoCAD, Solidworks, or CATIA can be used for this purpose.
Step 2: Create a master pattern
The 3D model is then used to draft a high quality master model. Previously, CNC machining was used to make them, but now additive manufacturing can do the job quickly. With the advent of 3D printing technology, the pattern maker's role has become more practical and affordable. On the other hand, a cast model that can serve as the master pattern can be utilised without any further modification.
Step 3: Make the silicone mould
Following the development of the master pattern, a mould is cast. The master pattern, complete with casting cores, inserts, and gates, is hung in a casting box. The formed way is placed in a vacuum casting box, and liquid silicone is poured around it, filling in all the details. This is then put into a preheated oven at 40°C for 8-16 hours to cure. Timing is subject to variation based on the dimensions of the silicone mould.
The box and the risers come out after the silicone has dried and set. To finish, the negative form cavity of the component is exposed by delicately splitting the mould with a knife. Stickiness and surface flaws can be avoided with careful selection and application of the mould-release agent.
Step 4: Mixing
Before mixing, polyurethane resins used for casting are typically heated to about 40°C. To use the machine, a two-component casting resin and any desired colourant are combined in precise quantities and poured into a bowl. The mould is then placed back in place, and the pouring gates are attached to the mixing and pouring vessel.
Vacuum casting resins and colour pigments are thoroughly mixed and deaerated for 50-60 seconds in a vacuum during the auto-pouring process. Next, a vacuum is created in the mould, and the resin is poured inside. By eliminating the air pockets inside the tool, which would otherwise act as an obstacle to flow, vacuum technology makes it possible for gravity to do all the work in filling the mould.
Step 5: Demoulding the parts
After the resin has been poured into the mould, it is heated in a curing room until hard. Casting can be taken out of the mould when it has hardened. When the casting is complete, the gate and risers can be removed, and any last finishes performed.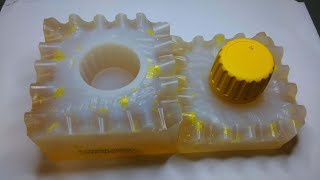 Technical specifications of vacuum casting
Vacuum casting is a process that uses a vacuum to remove the air from the mould. This leaves a smooth surface on the castings and results in minimal defects. It is often used for small parts and thin-walled parts. Some general specifications of the process are the following:
| | |
| --- | --- |
| Materials | A wide variety of materials can be used (plastic, rubber) |
| Lead time | 10-20 days |
| Minimum wall thickness | 0.75 mm, but 1.5 mm is recommended |
| Quantity | 1-20 per mould |
| Surface quality | Glossy or matt |
General applications of vacuum casting
Vacuum casting is a versatile process with many applications in different industries. The ability of the process to create intricate and precise components makes it an ideal choice for high-quality results.
Medical implants: Vacuum casting is widely used in the medical industry to fabricate complex parts and components. It can be used to make implants and prosthetics.
Automotive industry: Automotive parts are often manufactured through vacuum casting due to the process's ability to create highly detailed components. Automobile parts such as intake manifolds, exhaust systems, and body panels can benefit from the superior accuracy and repeatability of silicone vacuum casting.
Food Industry: The process is often used to manufacture intricate parts for the food industry. It can create moulds, packaging components, and other complex shapes needed in food production operations.
Aerospace components: This process can be used to fabricate precision aerospace components. Due to its superior accuracy, repeatability, and ability to create intricate detail, components such as air ducts, fuel systems, and even some parts of aeroplanes' exteriors are often created through vacuum casting.
Consumer goods: Vacuum casting can manufacture complex consumer goods such as toys and sporting equipment. The process can create highly precise parts that are perfect for consumer use.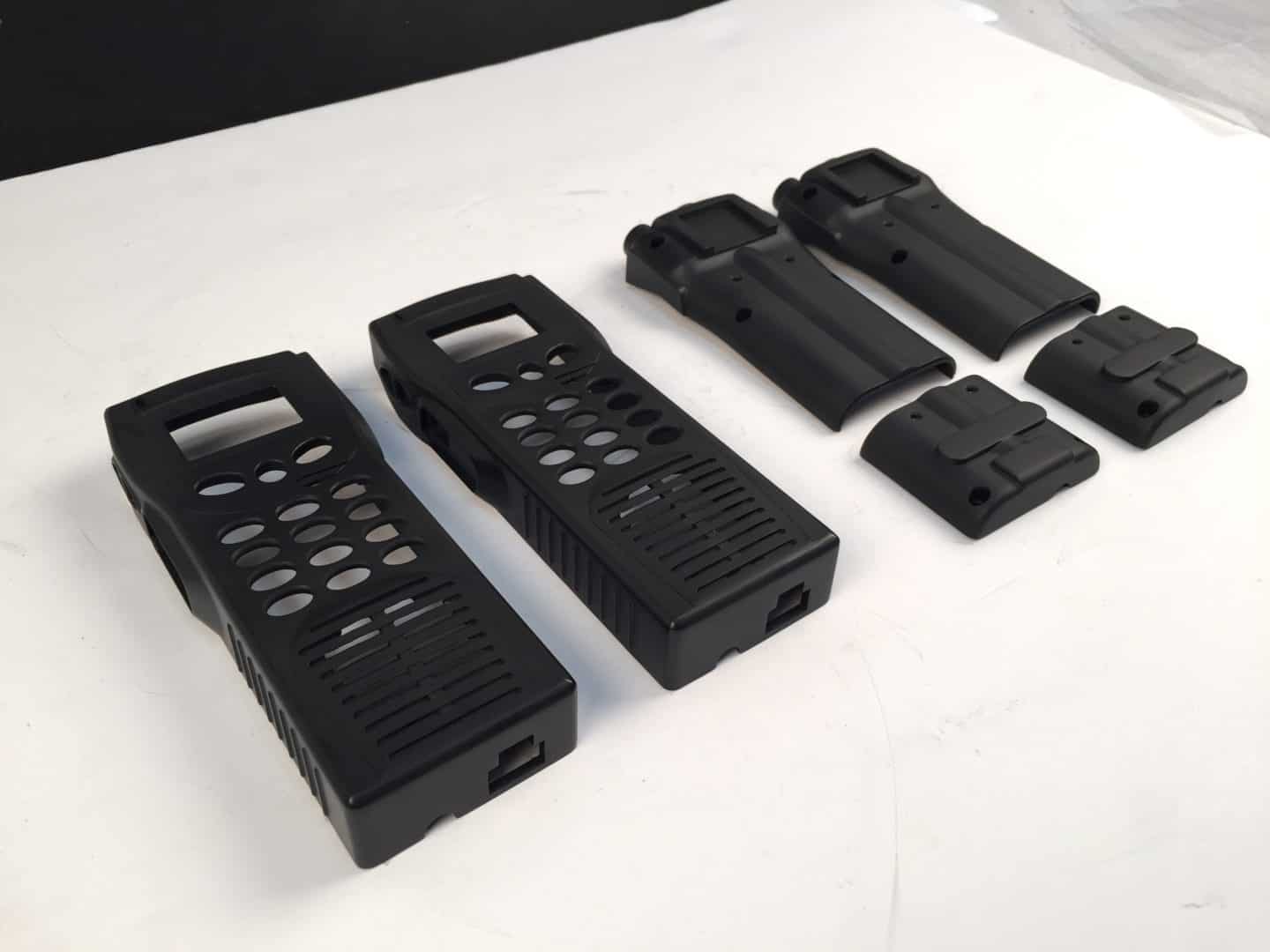 Advantages of vacuum casting
The vacuum casting process has a wide range of usage in the industry. In industry, it is commonly used for low-volume production of prototypes or production parts. This production process offers several advantages over other methods of rapid prototyping and manufacturing.
Fine details: One advantage of the vacuum casting process is its ability to produce parts with fine details. The mould is formed using the 3D printed master model. The 3D printing process can produce intricate details, which can be replicated in the final cast.
Low cost: Another advantage of vacuum casting is its relatively low cost. Vacuum casting is much less expensive than other rapid prototyping methods, such as CNC machining. This is because it requires only a few hours to produce a mould, which can be reused multiple times. CNC machining requires costly tools and materials.
Dimensional accuracy: The vacuum casting process produces parts with excellent dimensional accuracy. The parts produced via vacuum casting will fit together perfectly without needing post-processing steps such as sanding or drilling.
Flexibility: It provides a high degree of design flexibility. This is because almost any geometry can be created using 3D printing. As a result, parts that would be impossible to produce using other methods can be easily made using vacuum casting.
Limitations of vacuum casting
Despite all its advantages, this process has several limitations that should be considered before starting a project:
The process is only suitable for specific materials
The prototype quality can be affected by the type of mould used
Shrinkage may cause parts to become too thin or too thick
The process is relatively slow, so it may not be suitable for large-scale production runs
The process is not suitable for high-temperature applications.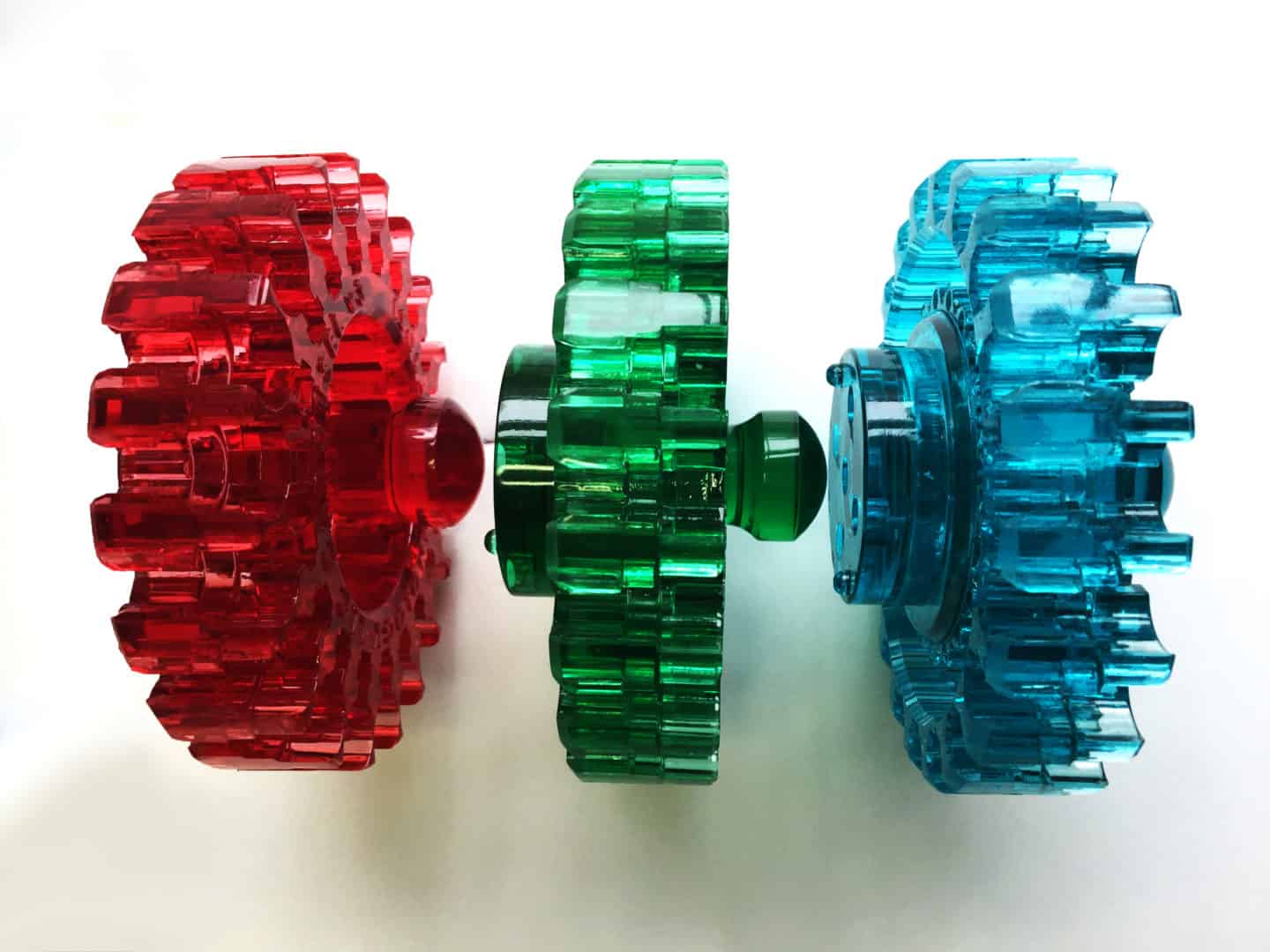 Vacuum casting vs. injection moulding
Vacuum casting is an excellent option if you're looking for a quick, easy, and cost-effective way to produce high-quality plastic parts. Injection moulding is another popular method for manufacturing plastic parts. Unlike injection moulding, vacuum casting does not require a DFM process, and thus allows to save project time.
When choosing a manufacturing process, it's important to consider your volume requirements, tolerance needs, surface finish requirements, and lead time. Vacuum casting is an excellent choice for low-volume production runs with tight tolerances and a smooth surface finish. Injection moulding is best suited for high-volume production runs with less stringent tolerance requirements.
Vacuum casting vs. 3D printing
The significant advantage of vacuum casting is that it can create highly detailed parts with smooth surfaces. However, the biggest downside is that it can be time-consuming, especially if you need multiple copies of your part. 3D printing processes, on the other hand, build parts layer by layer from powder or liquid plastic. One of the most significant advantages of 3D printing is that it's much faster than vacuum casting.
If speed and cost are your top priorities, then 3D printing is likely the better option. But vacuum casting is the way to go if you need high accuracy and detail.
Source your vacuum cast parts at Xometry
Vacuum casting is a versatile and relatively quick process that can create small batches of detailed parts. It is ideal for prototypes, functional models, and marketing purposes such as exhibition pieces or sales samples.
Do you have any upcoming projects for vacuum cast parts? Upload your CAD files to Xometry's Instant Quoting Engine and get a quote within 48 hours.