Xometry interviewed several members of Neocean about how Xometry supports them in the production of mechanical parts.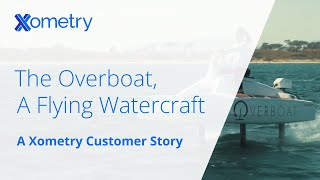 Xometry: How did the project start?
Vincent Dufour (oceanographer, founder & president of Neocean): It's always really frustrated me that boats pollute, make a lot of noise and are now known to be a major source of pollution for marine wildlife. And protecting marine wildlife is precisely what my job is.
So, we started from scratch and developed all the technologies in-house with my colleagues from the University of Montpellier.
The Overboat, an electric flying boat
Xometry: How does the Overboat work?
Damien Durel (naval engineer, responsible for design and procurement): The Overboat is a watercraft equipped with three foils that enable it to fly over the water. These foils are underwater wings that help the boat to rise above the water.
Another key feature of the boat is that it is 100% electric, which is made possible by its low energy requirement.
Xometry, the provider of all mechanical parts
Xometry: How did Xometry support you in the manufacturing of mechanical parts?
Damien Durel: We have been working with Xometry from the outset for supplying parts and all the parts produced using machining and 3D printing.
At first, our project was limited to prototyping. We found Xometry online and you immediately helped us produce prototype parts quickly and at a good price. They also helped us make some modifications to improve the design of the parts.
Then they provided effective support in the industrialisation process by helping us with series production under completely different constraints – constraints linked to quantity, quality, deadlines and cost.
Xometry: What materials did you use?
Damien Durel: In terms of materials, we work in the marine environment and we, therefore, have major constraints like corrosion and marine conditions. That's why we have chosen to keep using the materials that are at the heart of our business, such as resistant stainless steel (316L) or hard-anodised aluminium to withstand these conditions. And these are materials that Xometry offers.
Xometry: What parts did Xometry provide you with?
Damien Durel: We work with Xometry to produce all the parts for the foils to operate. With your help, we have managed to fully manufacture a waterproof control wheel that is both wireless and resistant to a marine environment. There is no mechanical link between the steering wheel and the back of the boat.
Strong quality control of the parts
Xometry: How do you check the quality of the parts?
Yves-Marie Chené (Mechatronics engineer, responsible for mechanical parts): To verify the quality of our parts, we assemble all our parts on the boat and test them under sailing conditions that mimic normal use of the boat, but also under more challenging conditions that push the boat to its limits.
That's why it's important to start off with good quality parts from all our suppliers, including Xometry.
From prototyping to serial production
Xometry: What are Xometry's strengths?
Damien Durel: Xometry's ability to adapt to the different phases of the project, first for prototyping and then for series production of parts.
The online pricing is also great. We order parts ourselves, but there is still great sales follow-up afterwards. This allows us to do things quickly, but still get the required aftercare from your teams.
This has put us in a strong position to make progress, particularly with mass production. Being able to outsource has significantly reduced our workload and we can still easily maintain quality and meet deadlines.
So far, this collaboration has been a real success!
More about Neocean: https://www.neocean.com/en/