From manufacturing to professional model making
Before he turned his hobby into a career, Pistor trained as a lathe and milling worker. Nowadays he builds working models to order, produces model accessories, and sells his work in his online shop. His models include tanks, trucks, diggers, agricultural machines and much more.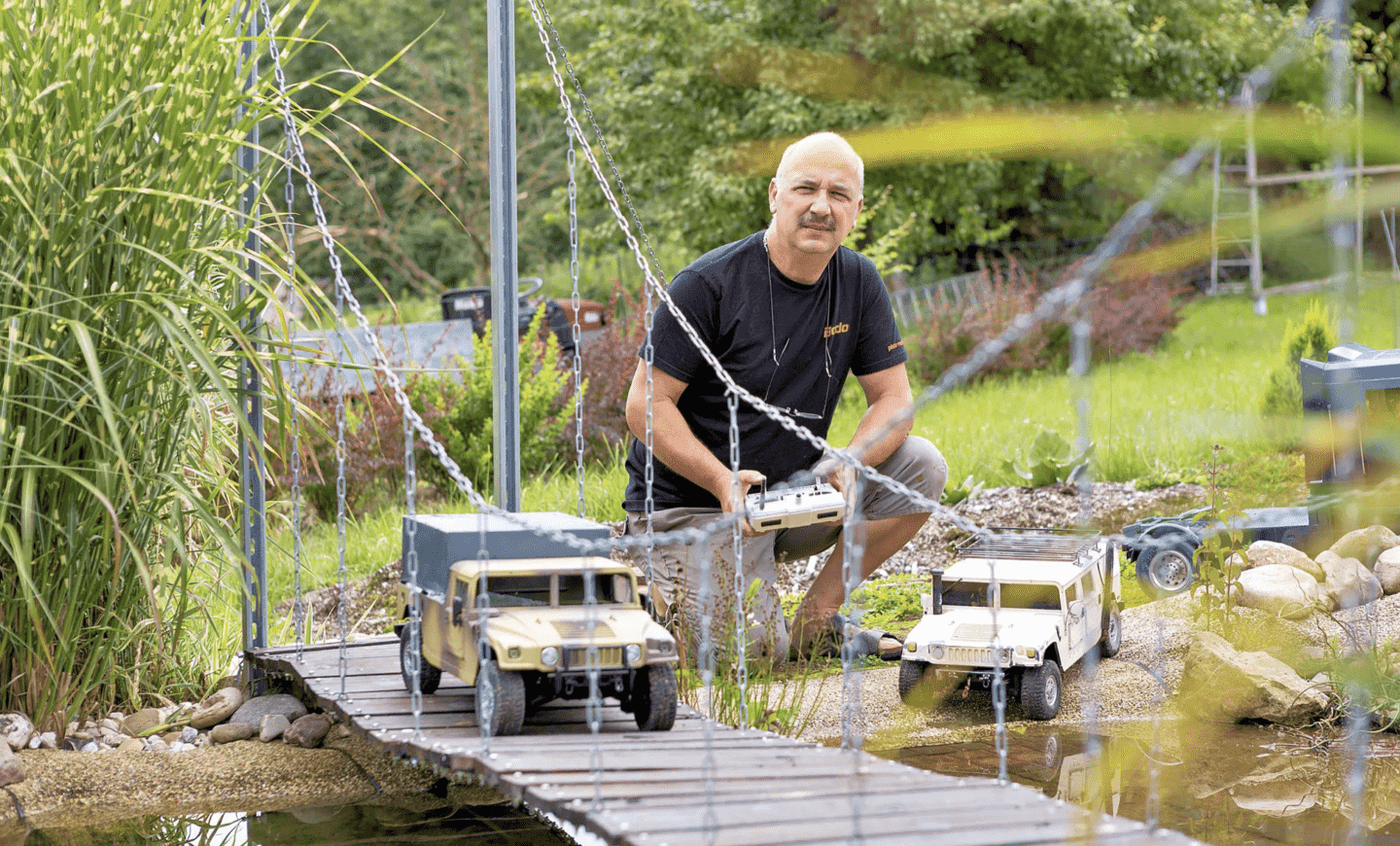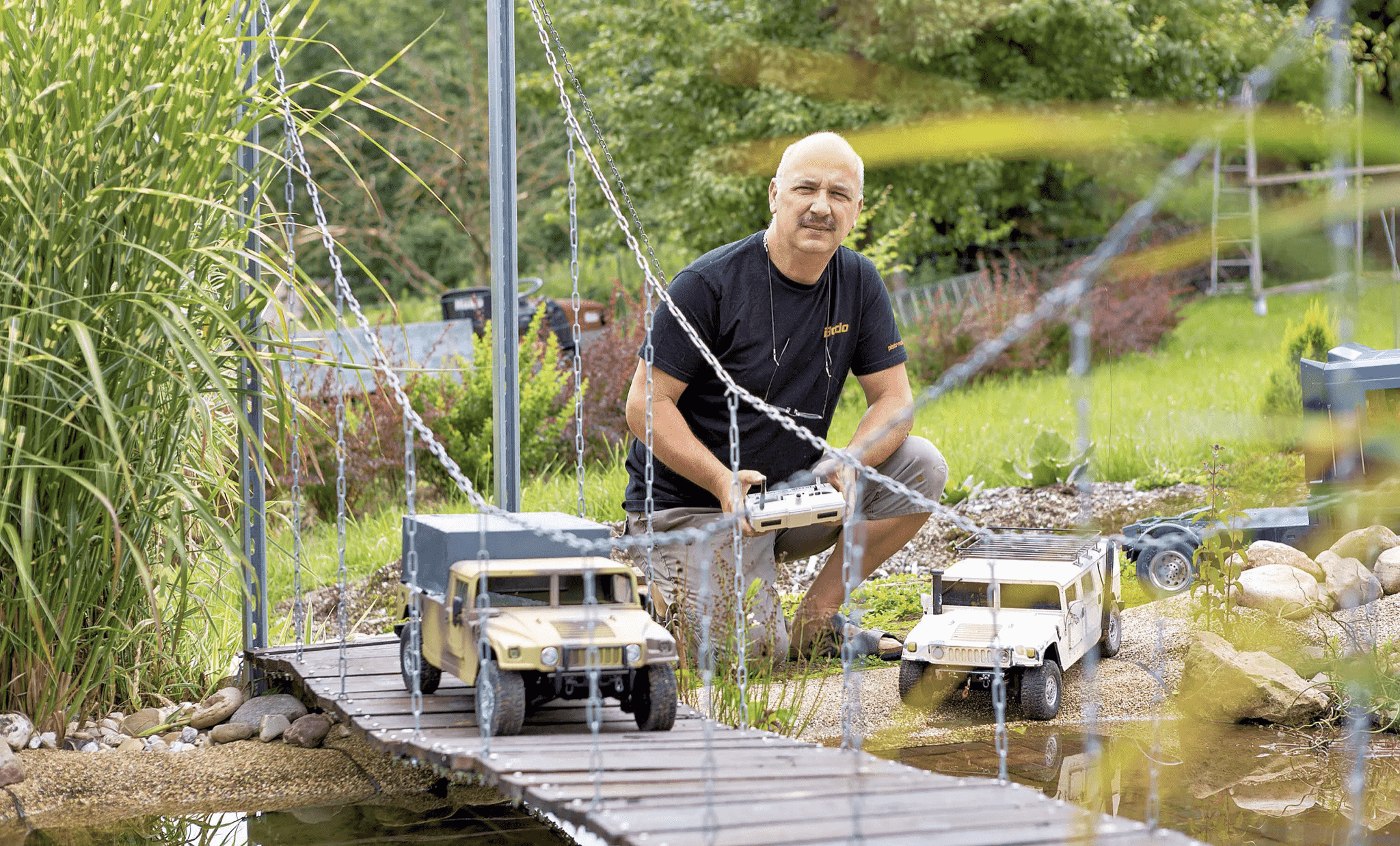 Pistor is renowned among model building enthusiasts for his large working models. For example, he has previously built a 180 kg tank in 1:5 scale that is 1.5 metres long and has a full drive system with 2 electric motors. Every summer Pistor organises an event in his garden, which is much appreciated by the community of model enthusiasts. In the summer of 2021, enthusiasts brought over 80 models to showcase the driving terrain at Pistor Modellbau.
All Pistor Modellbau models are fully functional, so they can be used for entertainment as well as business purposes. For example, a company that wants to sell large industrial machines abroad can order a scaled-down working model from Pistor to take to a meeting with clients in another country.
Pistor produces most of the mechanical parts himself
The expert model maker produces most of the mechanical parts that he needs for his parts out of metal. As a former milling machine operator, he is very familiar with machining metal. He has a conventional milling machine and lathes in his workshop. He uses steel, aluminium, copper, and brass to make his parts and some are made using CNC machines.
Naturally, for such complex models, he also needs plastic parts to show fine exterior details.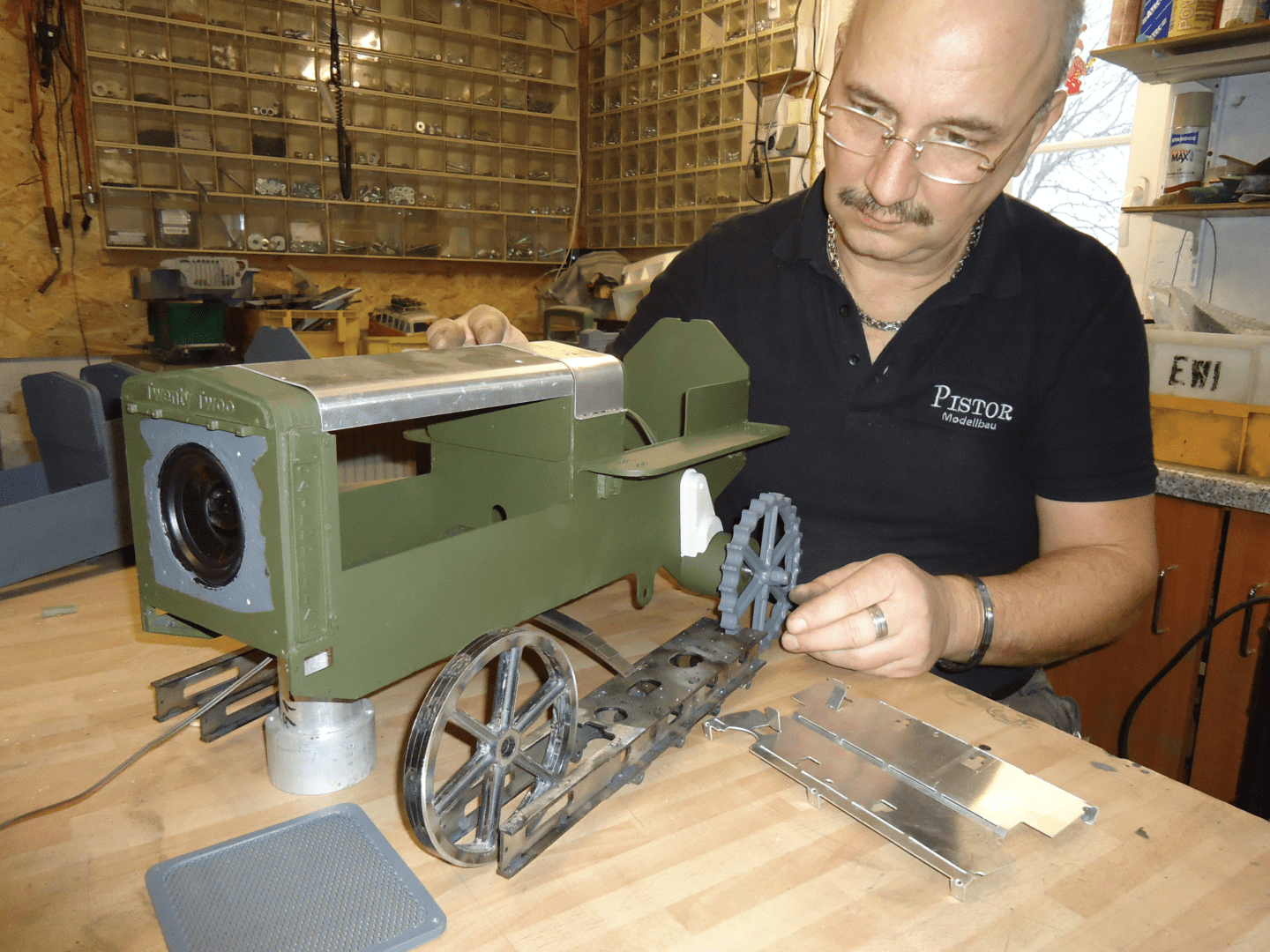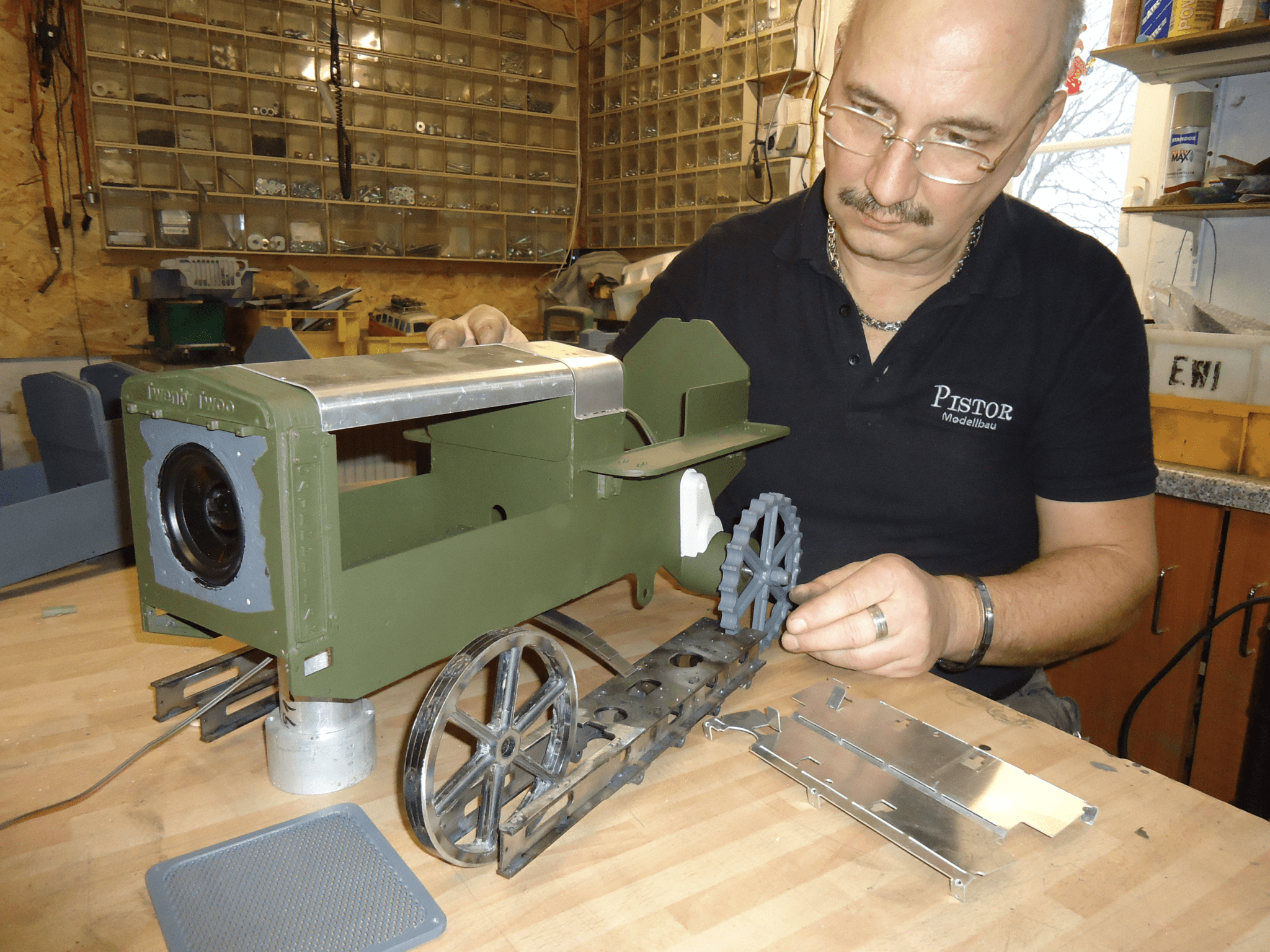 3D printing for producing tyres
Pistor began his model making career by producing tanks, i.e. tracked vehicles. He later started building wheeled vehicles, but the tyres of these vehicles always posed a problem. There was virtually no one on the market who made realistic tyres for professional models.
That was when he decided to buy a struggling company that produced these types of tyres. The available technology meant that Pistor needed a mould to make the tyres he wanted. These moulds were made with milled and turned mechanical parts, which was an expensive solution and prevented him from creating small details on the sidewall of the tyres.
As soon as 3D printing technology became available, Pistor decided to try this modern solution to produce master forms for the new tyres that were not yet on the market. Initially, he started working with FDM, but it didn't provide the desired resolution. Further down the line, when selective laser sintering became available, he tried it out and things improved significantly. Now the master form had much better resolution and helped Pistor produce much better tyres.
Today, he uses SLA 3D printing for small tyres and SLS 3D printing, which is cheaper, for producing larger ones. To produce the tyres, he uses a special PU foam.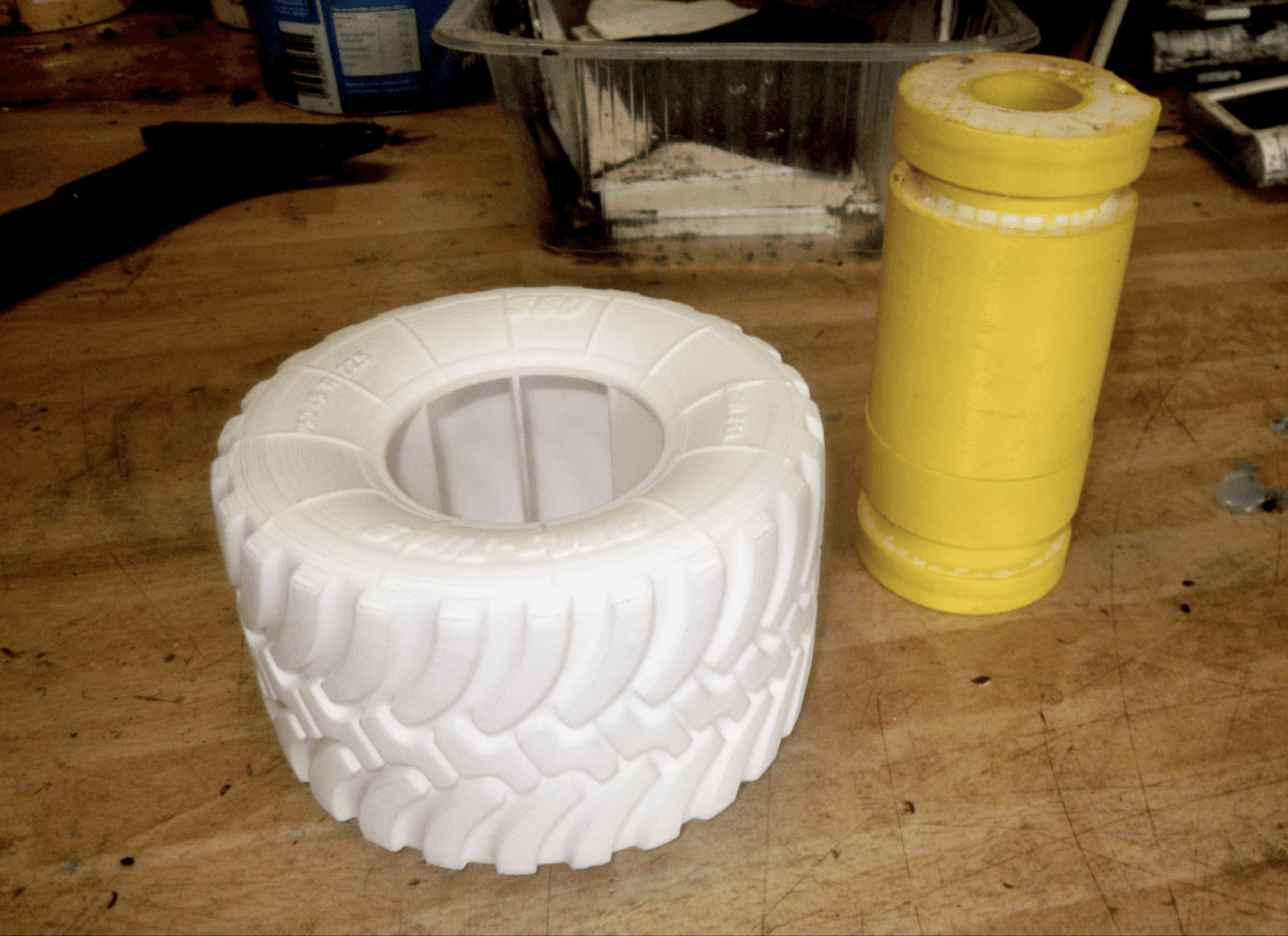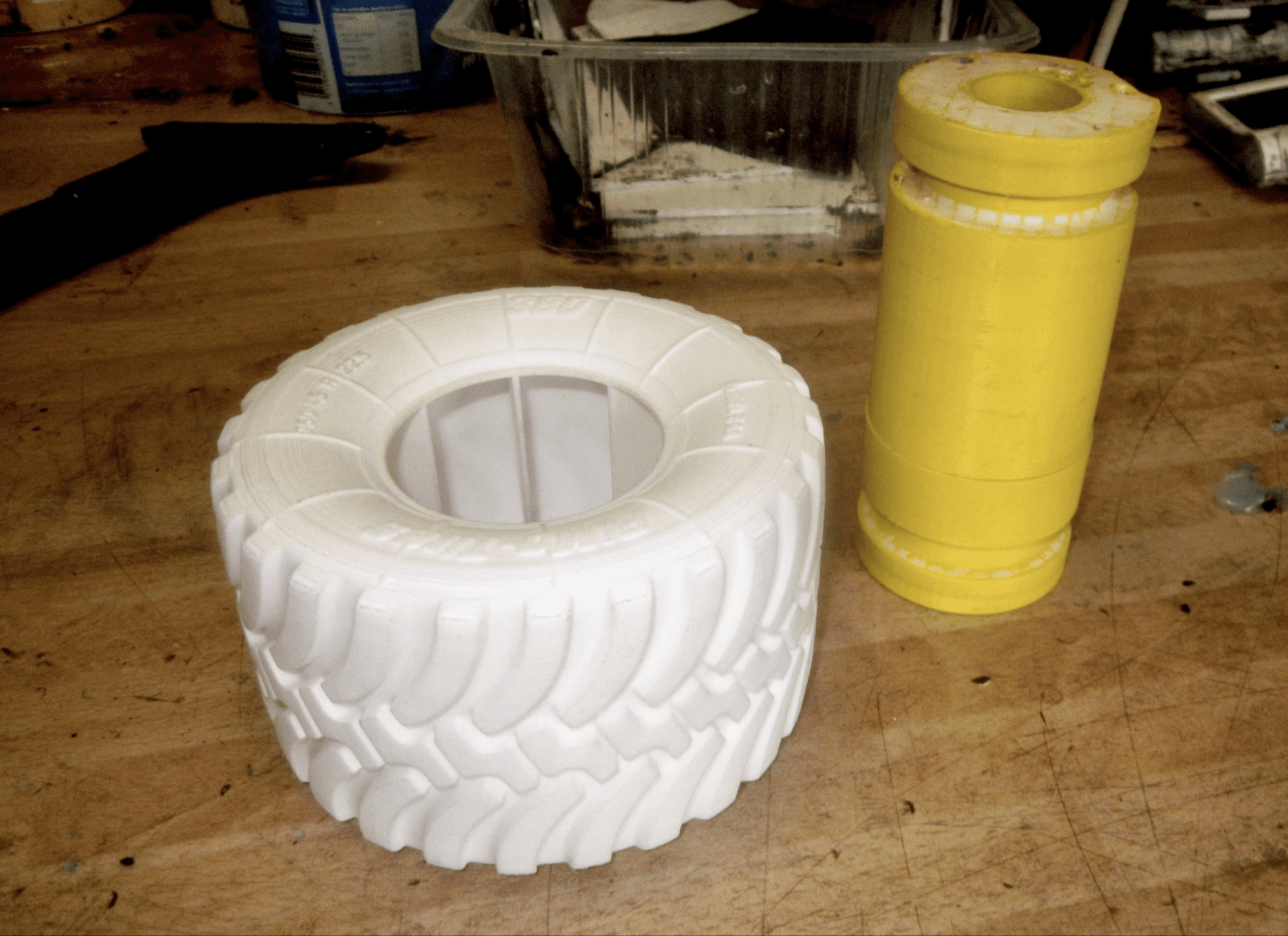 Tyres production
The tyres themselves are produced in a centrifuge using PU foam. This requires a mould, which Pistor makes with the help of 3D printing. When PU foam enters the mould, it takes on the structure and surface of the 3D printed form. That's why it's so important that the master form for the tyres has an extremely precise and well-detailed surface.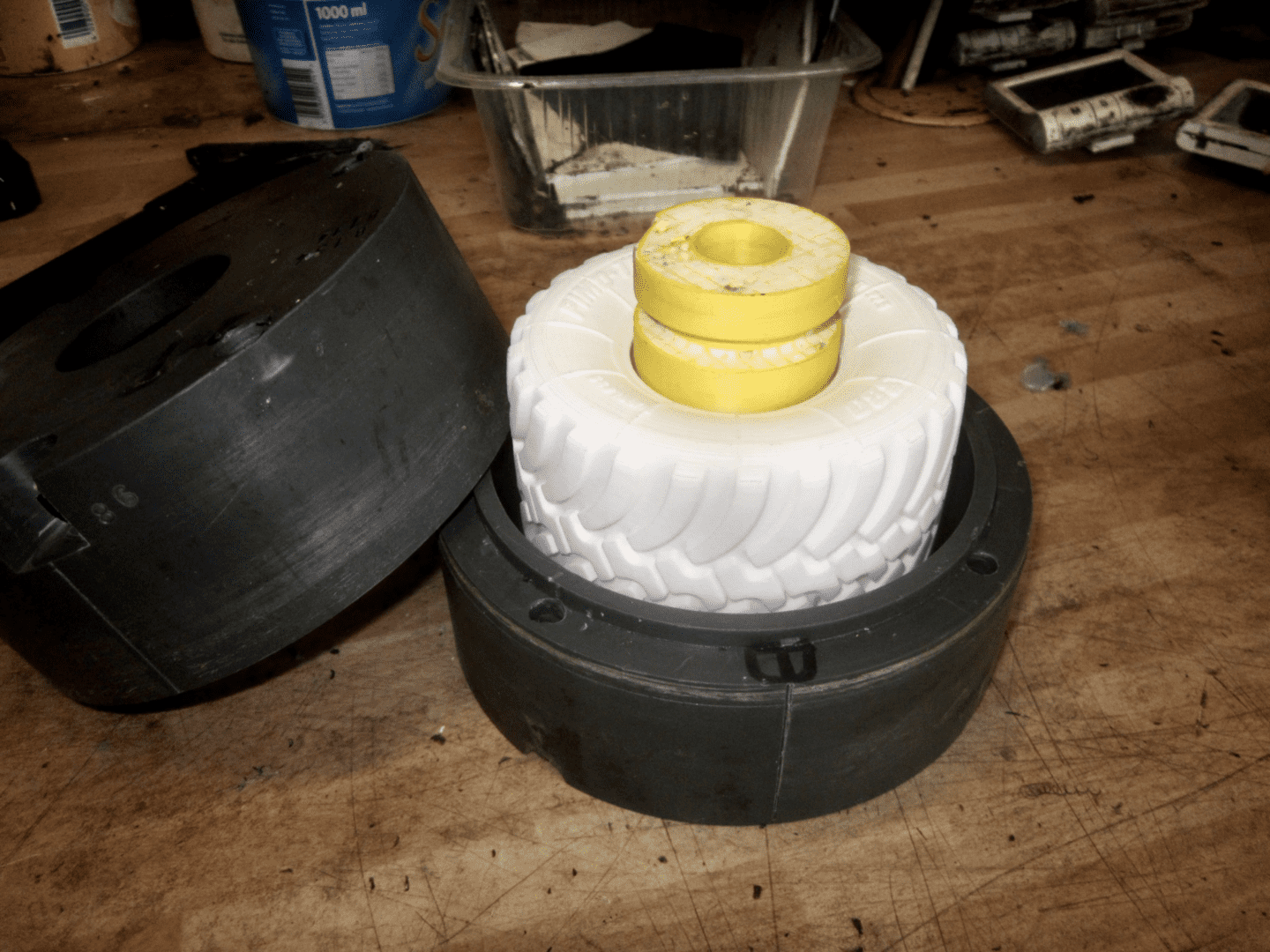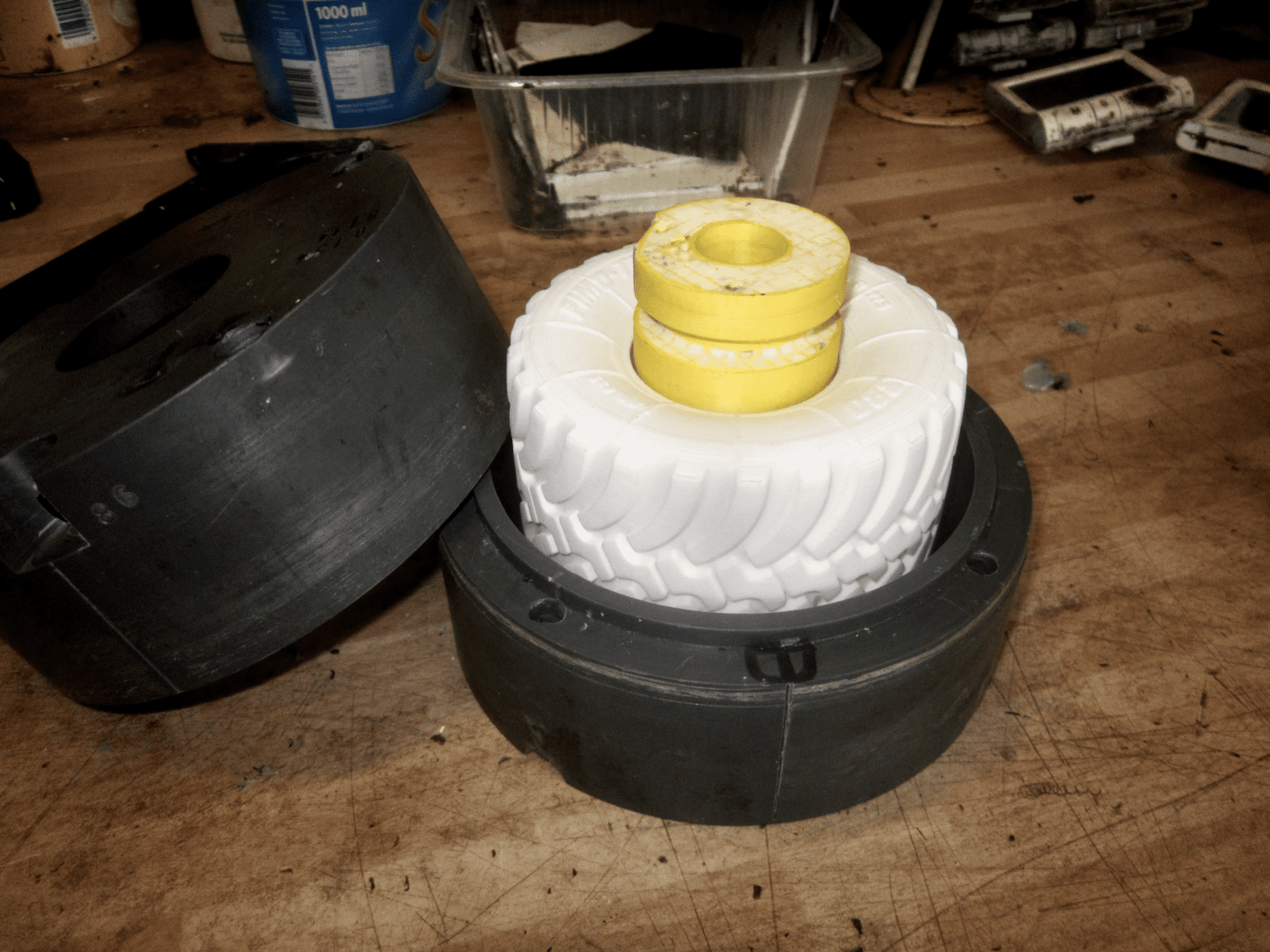 After three hours the PU is completely solid and the small but very realistic tyres are ready: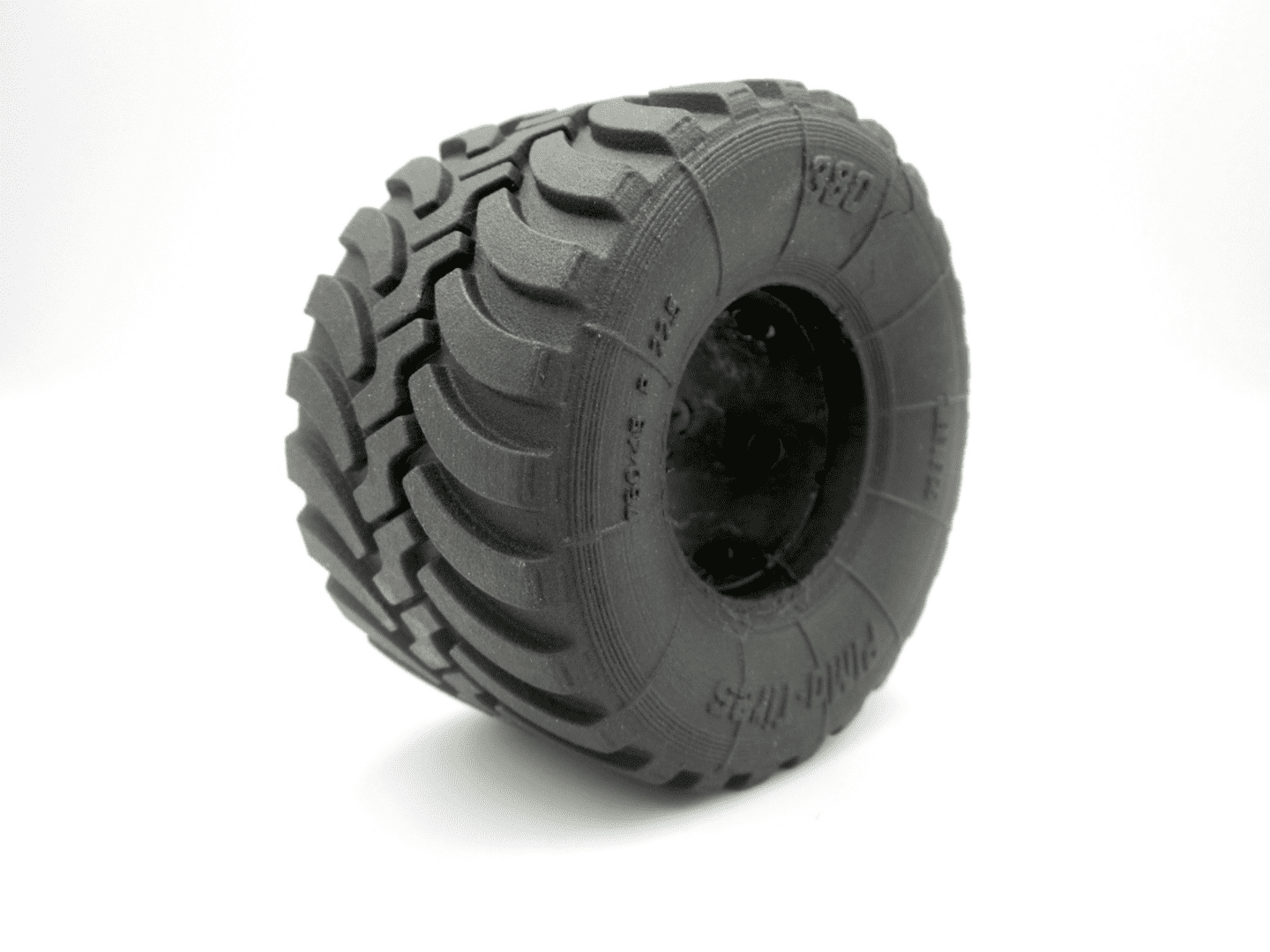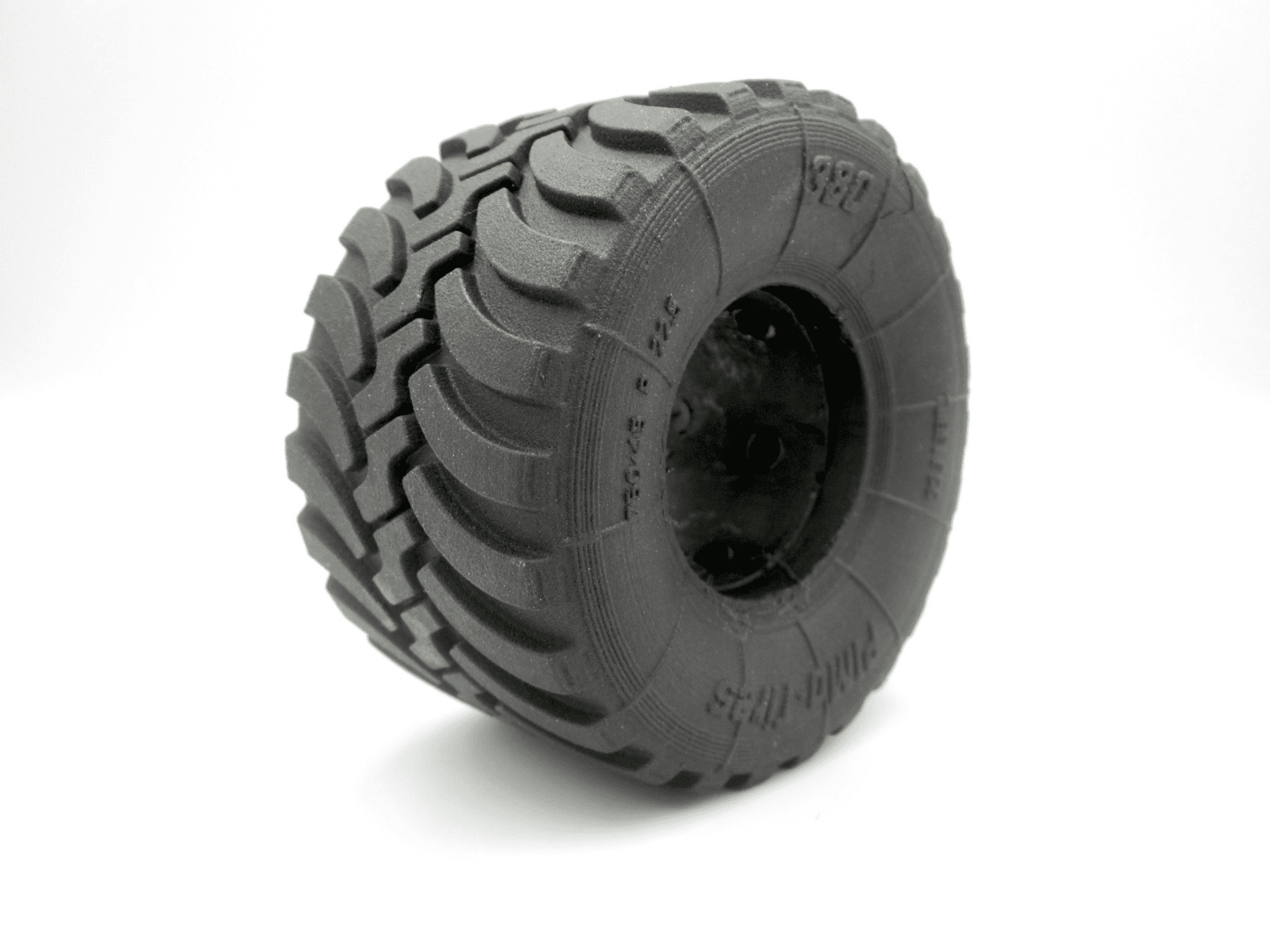 Pistor is delighted about working with Xometry. "Normally, it's difficult to find what you need now that there are so many 3D printing options, material properties or design requirements on a digital manufacturer's website. That's why you need good customer support to help you with your order so you don't end up with badly produced parts because you choose the wrong options. Xometry gave me all the help I needed and I got the exact parts I wanted."
More information
Bodo Pistor's Online-Shop: pistor-modellbau.de
Email: kontakt@pistor-modellbau.de