In the medical and dental fields, every patient has unique problems and solutions. This is why heavy customisation and precision are often required. And when it comes to customised solutions and treatments, there is no other manufacturing technology as good as additive manufacturing. Indeed, 3D printing provides localised options, solutions and tools to face the various tensions the world is facing, such as the COVID-19 pandemic.
Why additive manufacturing in the medical and dental fields?
Biocompatibility
There are many biocompatible materials available with 3D printing. This means that they are unreactive when in contact with a biological system which is paramount when coming to implants, prosthetics and dentures etc, that come in contact with human tissues.
The international standard for device testing, ISO 10993, provides information on how biocompatible materials can be tested and used as part of wider risk management and risk-reduction strategy. Qualifying these tests assure that the materials are not harmful if contacted i.e, not toxic or that they don't cause skin irritation.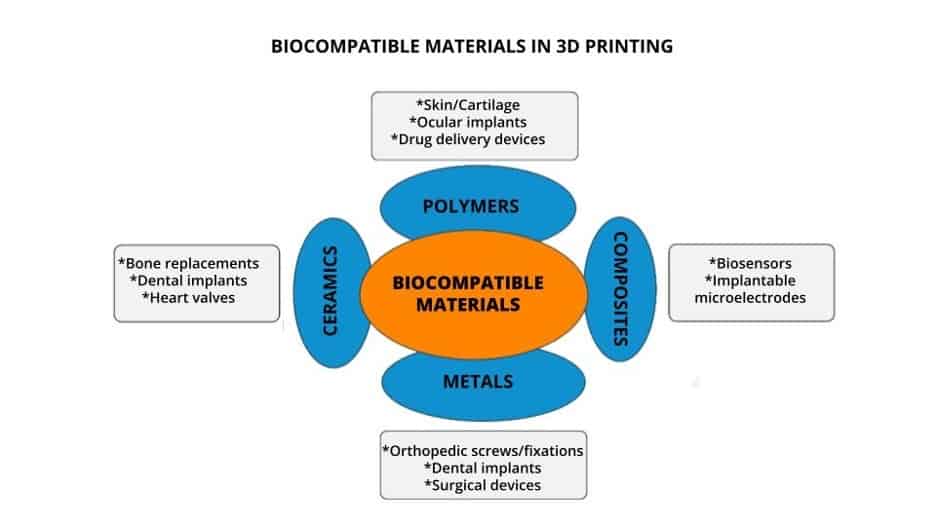 Sterialisability
Sterilisation makes a part or device free from bacteria and viruses etc. Many materials like ABS 30i are sterilisable in many ways like gamma radiation and alcohol sterilisation. This makes additive manufacturing the best and cheapest way to produce sterilised parts.
Bio-usability
Apart from being biocompatible, replacement parts like prosthetics, dentures and implants also need to possess similar physical properties that match the original body parts. For example, a bone replacement or joint part needs to be hard and able to withstand high compressive strength and fatigue. Many materials suitable for the medical industry like Titanium serve the purpose exactly and are customised according to the patient with the help of AM.
Customisation
No two patients are the same. For example, even in a patient, left and right ears differ in size and shape. There is no one size of hearing aid that fits all and feels comfortable for everyone. This shows that there is a necessity for customisation which is the main benefit of AM. Carbon DLS is in fact capable of producing highly accurate parts with soft elastomers that can fit in the patient's ear.
Prototyping
Additive manufacturing is known for its rapid prototyping capabilities that are used heavily in the medical and dental industry. Be it the models of a patient's jawline, knees, the doctors have a live sized model to discuss instead of a 2D X-Ray report or a scanning report.
The other advantage is, the data of a specific patient can be stored in the form of CAD models. These help a lot in the preparation of patient-specific implants and mostly in dentistry, this helps in replicating the exact teeth shape and size.
Applications of 3D printing in medicine and dentistry
Inexpensive and affordable prosthetics and orthoses
Many accidents occur in a year and many lose limbs as a result. But even though the process of acquiring prosthetics is quite easy, it remains very expensive. The advent of AM in the field made this expensive task from designing a suitable prosthetic to manufacturing into an affordable and accessible option.
3D printing has made the analysis, design and manufacturing of a patient-specific prosthetic much easier and is becoming a saving grace for many. This is the same in dentistry as well – it is much easier to analyse a jaw and teeth and recreate it with CAD, followed by 3D printing.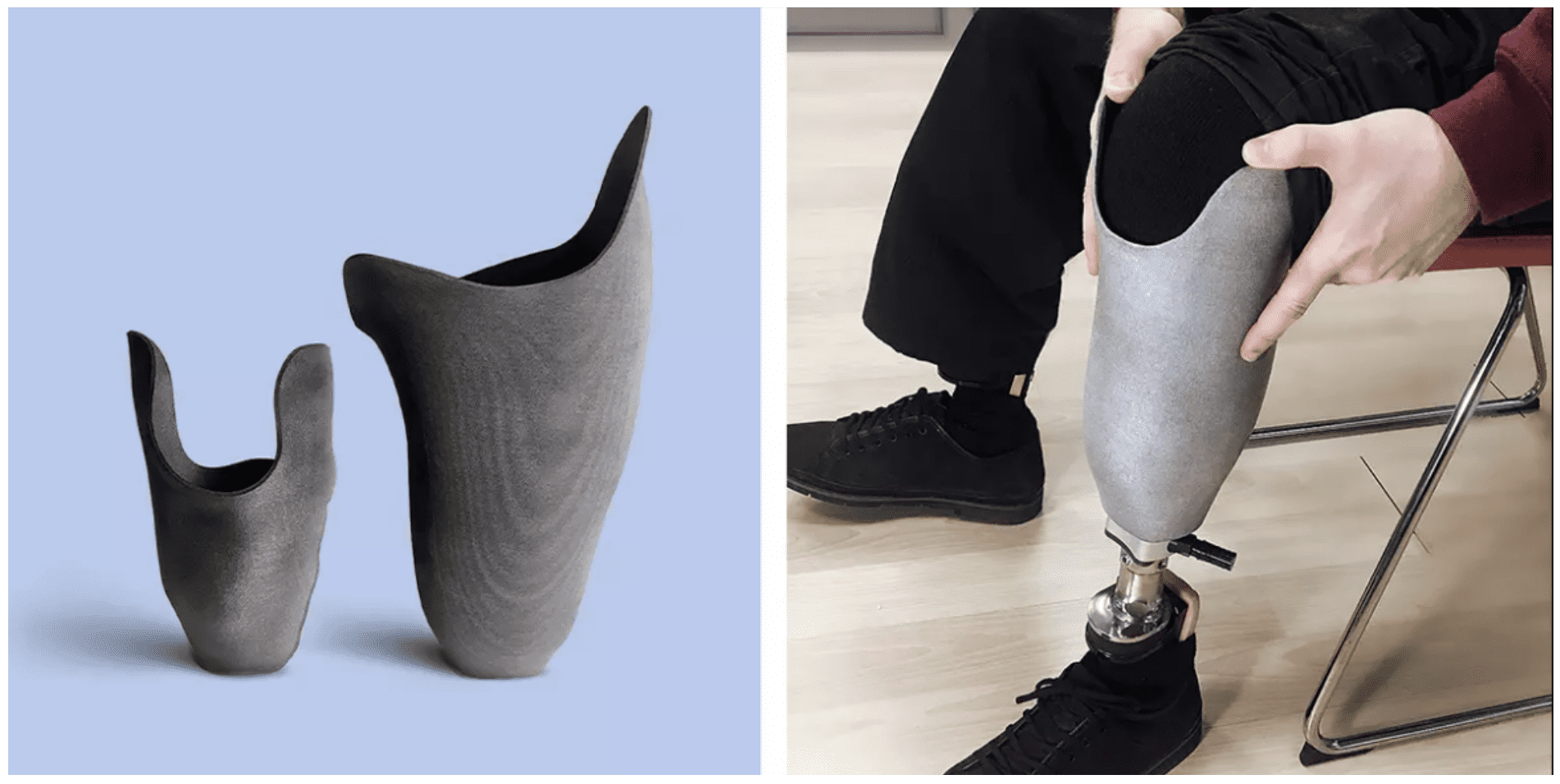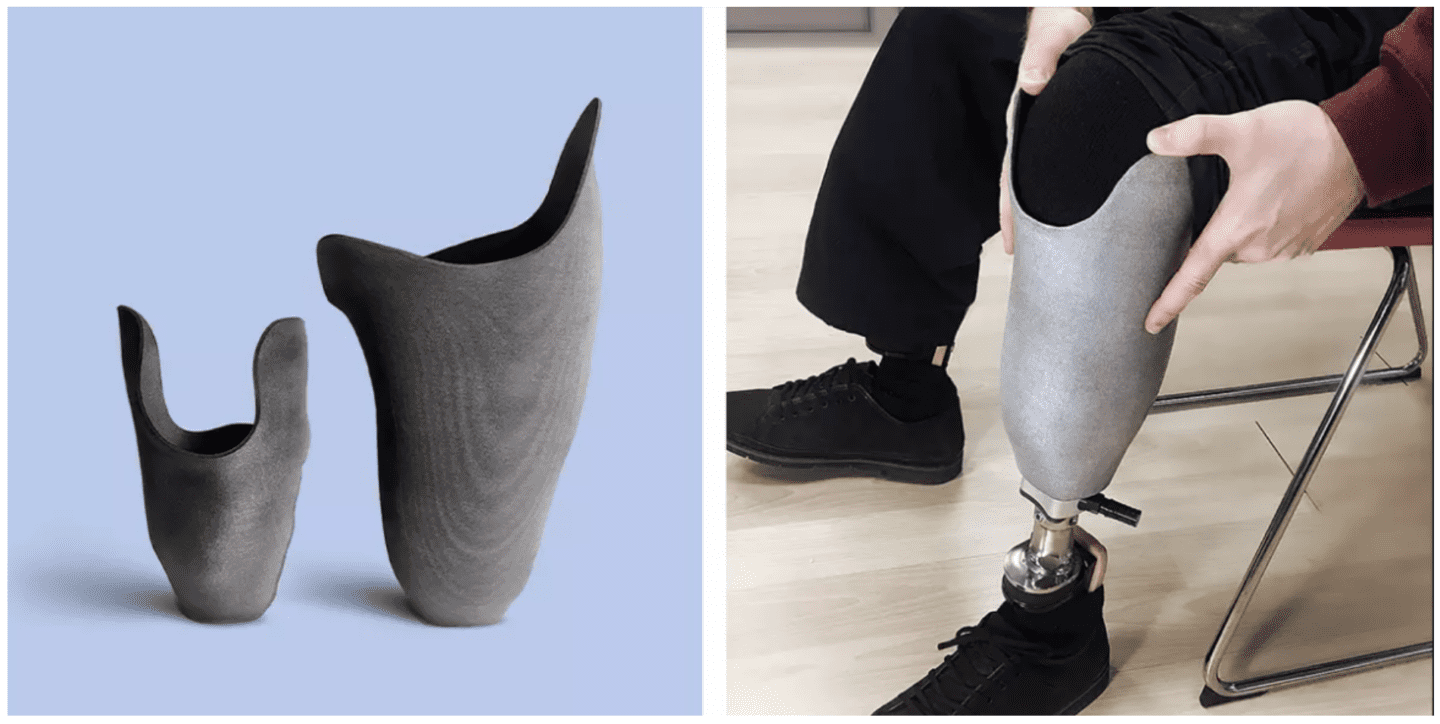 In-house printing and rapid prototyping
A 3D printer at the hospital or research facility helps boost innovation and help in betterment in treatment through multiple iterations in design and printing much faster and cheaper. It is easier for the trainees and medical/ dental students to understand and educate themselves in complicated cases through a live model than 2D reports.
3D bioprinting and tissue engineering
If an organ is damaged and needs to be treated, it can be done with the help of donated organs, autografts or grafts of a tissue taken from a different location and placed in the damaged location. This is a part of tissue engineering.
In the future, 3D printing can revolutionise this process by replacing the grafts method by printing with compatible material which can save many lives. From cell structures to skull replacements, there is a lot of scope in the segment and the researchers are working on it to make it a viable option with great potential in the future.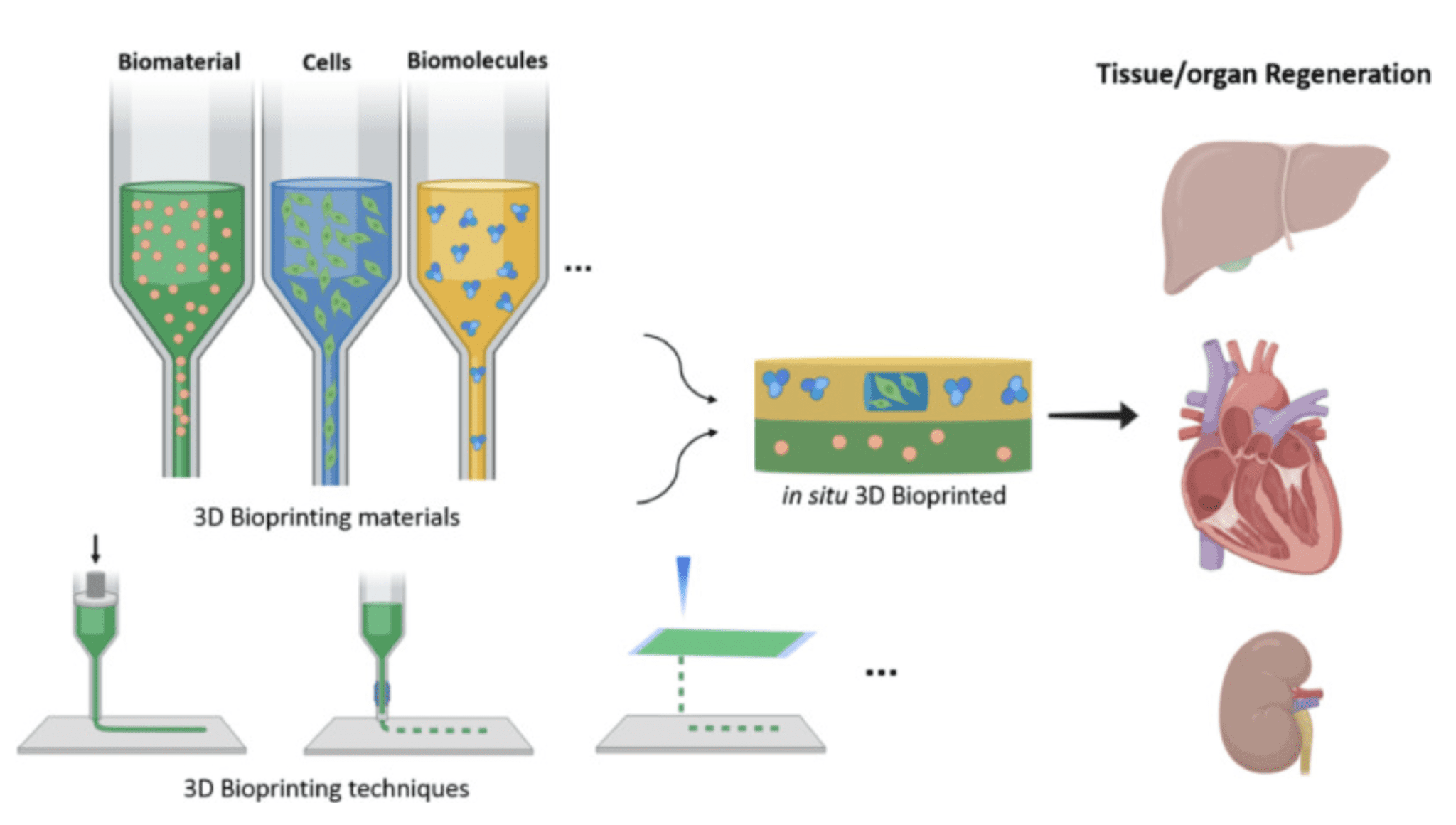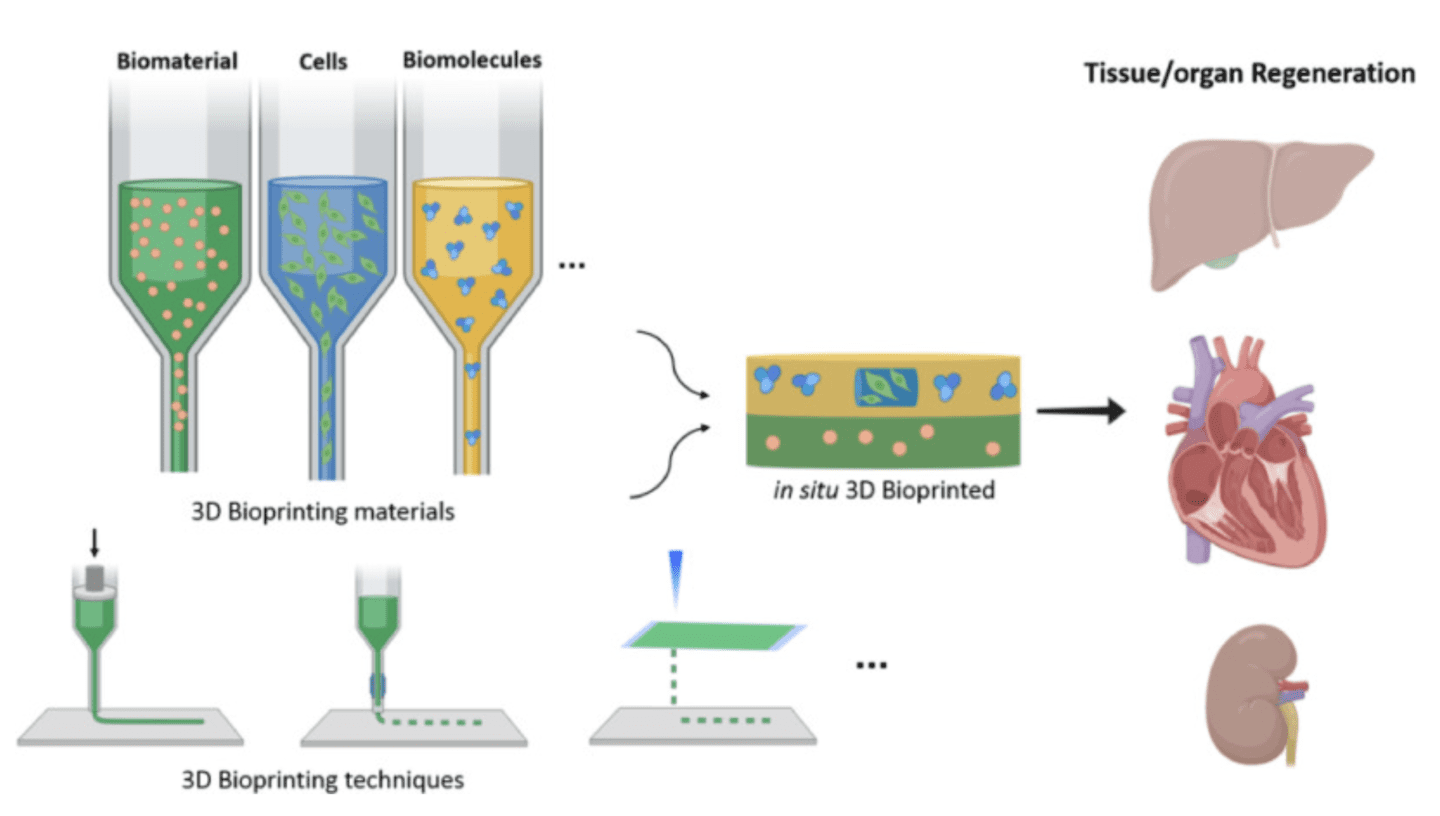 Overview of additive manufacturing in medical and dental industry
| | | | | |
| --- | --- | --- | --- | --- |
| Application | Process | Material | Features | Examples |
| Prosthetics | SLS, MJF | Nylon PA 12 | Tough, flexible, high tensile strength | Prosthetic legs, limbs |
| Medical equipment | FDM | ABS M30i | Biocompatible, sterilisable, high impact strength | Detailed anatomical models, prosthetics |
| Moulds, prototypes | FDM | PC ISO, ULTEM 1010 | Heat and impact resistant | Body part moulds, custom surgical guides |
| Heavy load and heat conditions | FDM | PPSF | Heat and chemical resistant | Prosthetics, prototypes |
| Wearables | Carbon DLS | SIL 30 | Heat, tear resisting, flexible elastomer | Respiratory masks, implants |
| Custom orthopaedic implants | DMLS | Titanium(Ti6Al4V) | Hard, corrosion, thermal resistant, non-reactive | Knee joints and bone replacements |
| Dental and orthopaedic implants | DMLS | Cobalt chrome(CoCr28Mo6) | Heat, corrosion, wear and chemical resistant | Teeth, joints and bone replacements |
| Surgical tools | DMLS | Stainless steel (17-4PH) | Heat resistant, cheaper | Surgical knives, trays |
Conclusion
At Xometry Europe, we offer fast, reliable, and highly accurate 3D printing services for thermoplastics, elastomers, and metals that are of immense benefit to the medical industry. We also offer various post-processing operations to ensure the utmost quality.
Regardless of quantity, precision, complexity, and required delivery time, we always have the manufacturing capacity to deliver. Head on to our instant quoting platform to upload your models and receive a quote in seconds, absolutely free.