Just like in any other field, additive manufacturing (AM) offers unique opportunities in electronics too. Its ability to combine multiple materials in single print jobs is very helpful in this industry. 3D printing technologies are much more accessible and simpler than they previously were. This enables significantly faster prototyping, which could reduce lead times, costs and mistakes that disrupt the production process.
When to choose 3D printing for electronics?
For on-demand production
3D printing allows the on-demand production of an electronic part with fixed lead time and a confined cost structure, which significantly reduces the time to design and launch a product. It also allows new and old devices to be easily produced with multiple 3D printing materials and low volume directly from a manufacturer's digital inventory or a customer's CAD model.
This is the main advantage and will transform the supply chain for electronics and allow manufacturers to instantly cater to the customer demand.
To scope for greater innovation and customization
There is a lot of scopes for the designers to come up with innovative ideas instead of using the same traditional designs due to the complexity of new and efficient designs. SLS and MJF technologies are good even for complex designs and also for batch production which used to be a drawback of AM earlier. A good batch size of electronic casings, breadboards etc can be produced very fast with AM, compared to conventional processes.
For example, using 3D printing for solar panels helps designers to break conventional design rules. This not only means the external structure but also the internal circuitry which might help improve the performance of components, minimize size, optimize weight and achieve complex and precise geometries.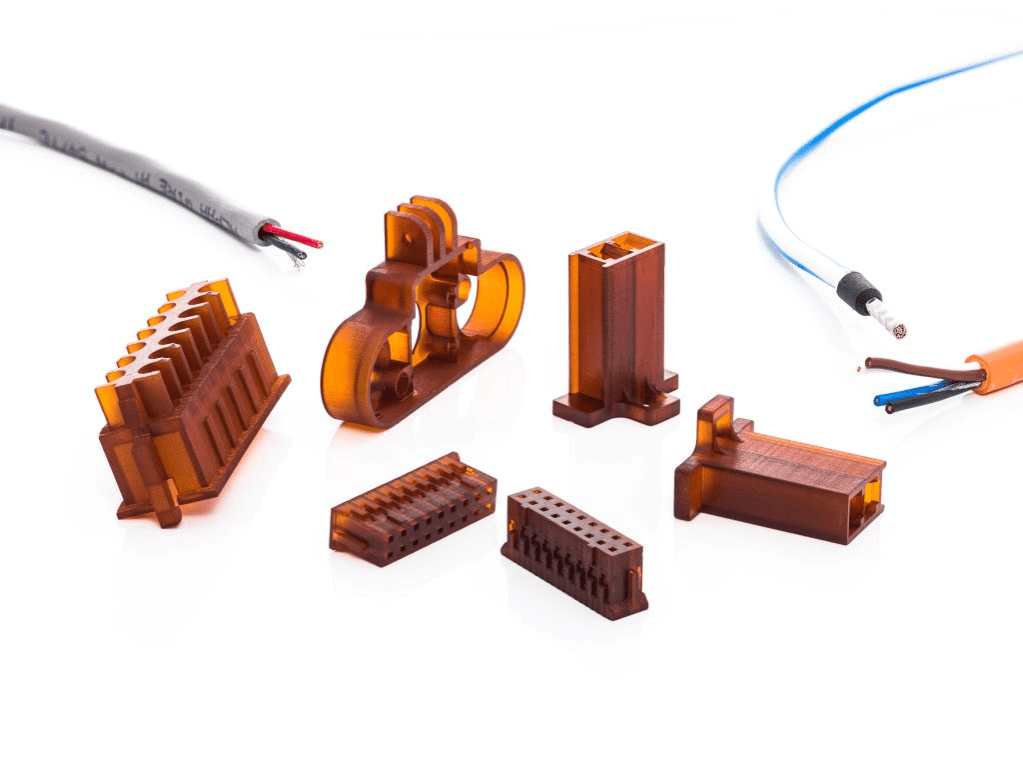 For faster prototyping
The speed and ease of operation associated with additive manufacturing make it ideal for creating quick prototypes. Printing parts with Multi jet fusion (MJF) is a relatively budget-friendly option often chosen for prototyping.
Fused deposition modeling, the most accessible form of additive manufacturing, is another viable alternative. FDM is the cheapest and best technology for prototyping due to its simplicity in usage and the cheaper build material. Since the whole process is a lot cheaper compared to the conventional processes, there is a better chance for redesigning, analysis within a short time span.
To have new materials to experiment with
Electronic products like PCBs mainly depend on two types of materials: an insulating dielectric substrate and conductive elements. Newer polymer materials with low dielectric constant and semiconducting polymer materials, both with adjustable electronic properties, are being adapted for use in recent times. These advanced materials coupled with 3D printing can open new doors in terms of design and modern developments.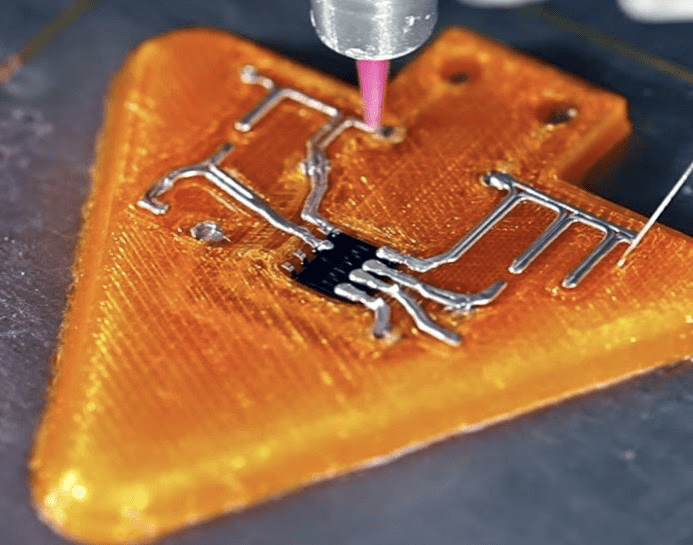 To get parts with a good surface finish
Technologies like SLA or Carbon DLS use resin materials and are fluidic in nature and offer a good surface finish. They offer properties like flexibility and water resistance which are a valuable addition to modern electronics like foldable phones and water resistant gear. If the prime necessity is tight tolerance and precision, these two are the technologies to look forward to.
High definition prototypes, functional prototypes are also one of the applications of SLA and Carbon DLS.
Benefits of additive manufacturing in electronics
Proper and optimised design
Since the model is computer generated and printed, there is only a little margin for error.
In a traditional process, the circuit is added to the complete part in the later stage but in the additive process, the built circuit is printed along with the part which makes the circuit encapsulate within it which safeguards the circuit from any external damage. For example, the small antenna in a mobile phone can be printed directly into a phone.
Print on non-flat surfaces
Electronics like PCBs can be simply 3D printed on non-flat surfaces, whereas conventional methods don't allow this process. In the same way, electronics can be easily embedded into wearables, sensors on flexible surfaces, sugar testing strips, prosthetics and customisable batteries.
Customised devices and 3D printed batteries can outperform the normal ones as their shapes and sizes are customized to fit a particular product and function thus optimising the performance.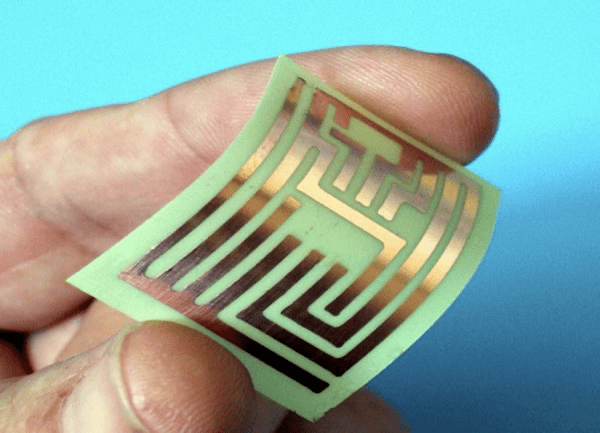 Light weight and lesser material wastage
One of the significant features of 3D printing is its production of lesser waste than the conventional subtractive processes and it holds the same even for electronics. 3D printing eliminates the need for extra wiring and additional circuits. Furthermore, the printed electronics eliminates the steps involved while conventional production into a single step thus also facilitating a simpler assembly.
Eliminates harmful chemicals
Etching is the step where excess material is removed. This step uses harmful chemicals to do so. Additive manufacturing eliminated this step as the film is directly laid in the place without any additional steps.
Conclusion
Xometry Europe offers online 3D printing services for on-demand 3D printing projects, for both prototypes and large batches. With a network of more than 2,000 partners all over Europe, Xometry is able to deliver 3D printed parts in up to 3 days. Upload your CAD files to Xometry Instant Quoting Engine to get an instant quote with various manufacturing options available for 3D printing.